SKU:CA-1I7-00F1WN-01
Regular price
$219.99 USD
Regular price
Sale price
$219.99 USD
Unit price
per
Sale
Sold out
View 71 TG RGB is a stunning full tower case which comes with three preinstalled 140mm Riing RGB fans and can support motherboards up to E-ATX.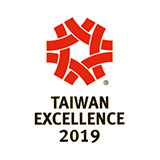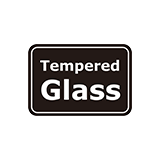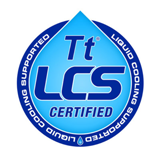 View full details
Design

Specification

Download
View 71 Tempered Glass RGB Edition Full Tower Chassis
Designed to expand the legacy of the View Series lineup, the View 71 Tempered Glass RGB Edition Full Tower Chassis features unrivaled cooling support and expandability surrounded in tempered glass for a one of a kind view. Swing open full window tempered glass panels for easy access with all panels properly spaced for optimal airflow. Preinstalled with three 140mm Riing RGB fans, Vertical GPU mount and 3-Way radiator support for today's PC hardware demands, the only limitation is your imagination.
The image is for reference only.

 
Tempered Glass Panels
The chassis comes with four 5mm tempered glass panels, thicker and more scratch resistant when compared to standard acrylic. Swing Doors on either side allow user easy access to the internal components as well as the ability to remove the doors entirely for complete access to the internals. On top of this, the enlarged window design enables you to display and admire all your components in their full RGB glory.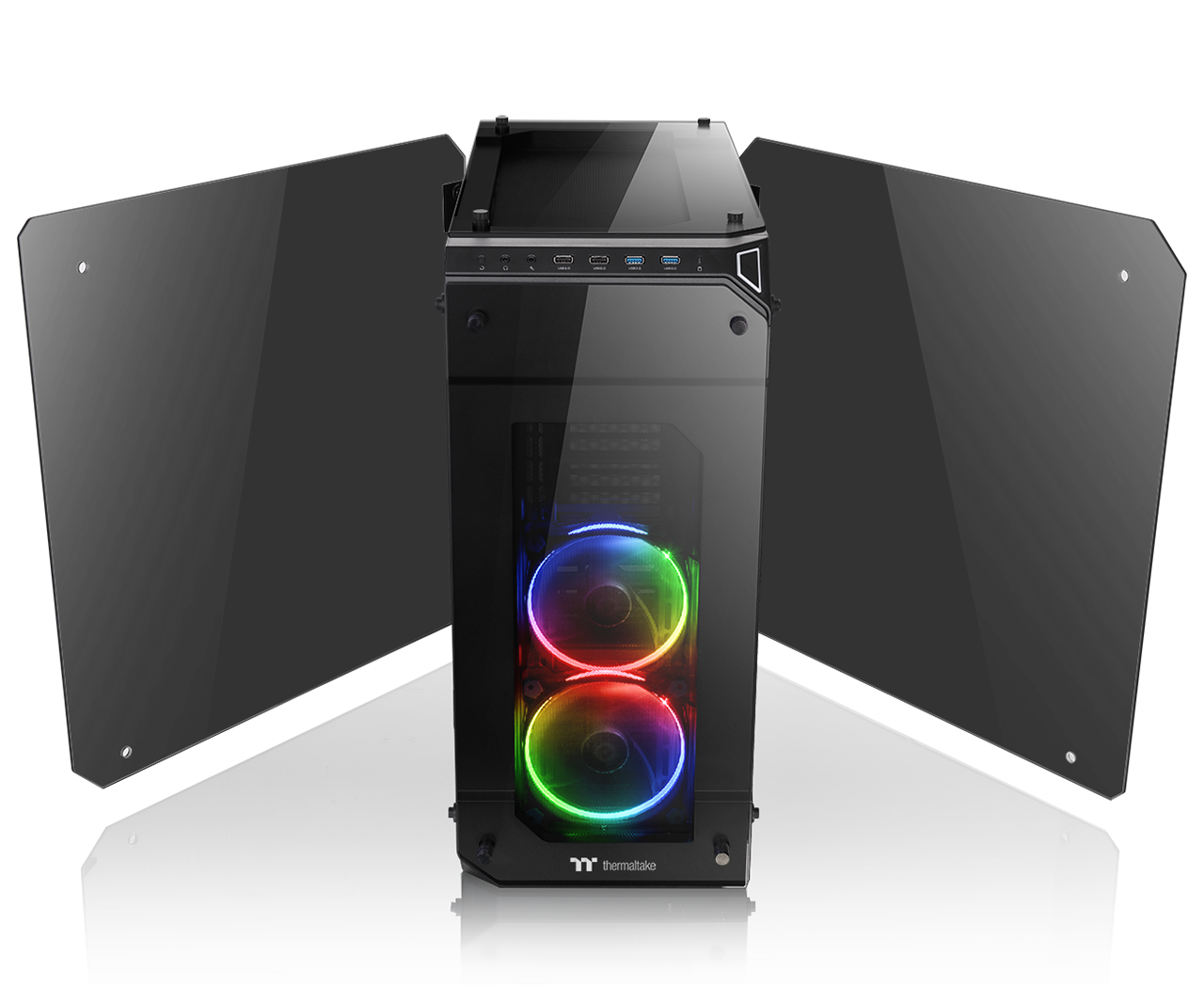 Fully Customisable
The View 71 TG RGB comes with full modular drive cages that allow easy installation/removal and maximizes the interior space for custom cooling loops. Above all, the tool-less drive bay design allows users to freely interchange the 3.5" and 2.5" hard-drives to suit their particular needs.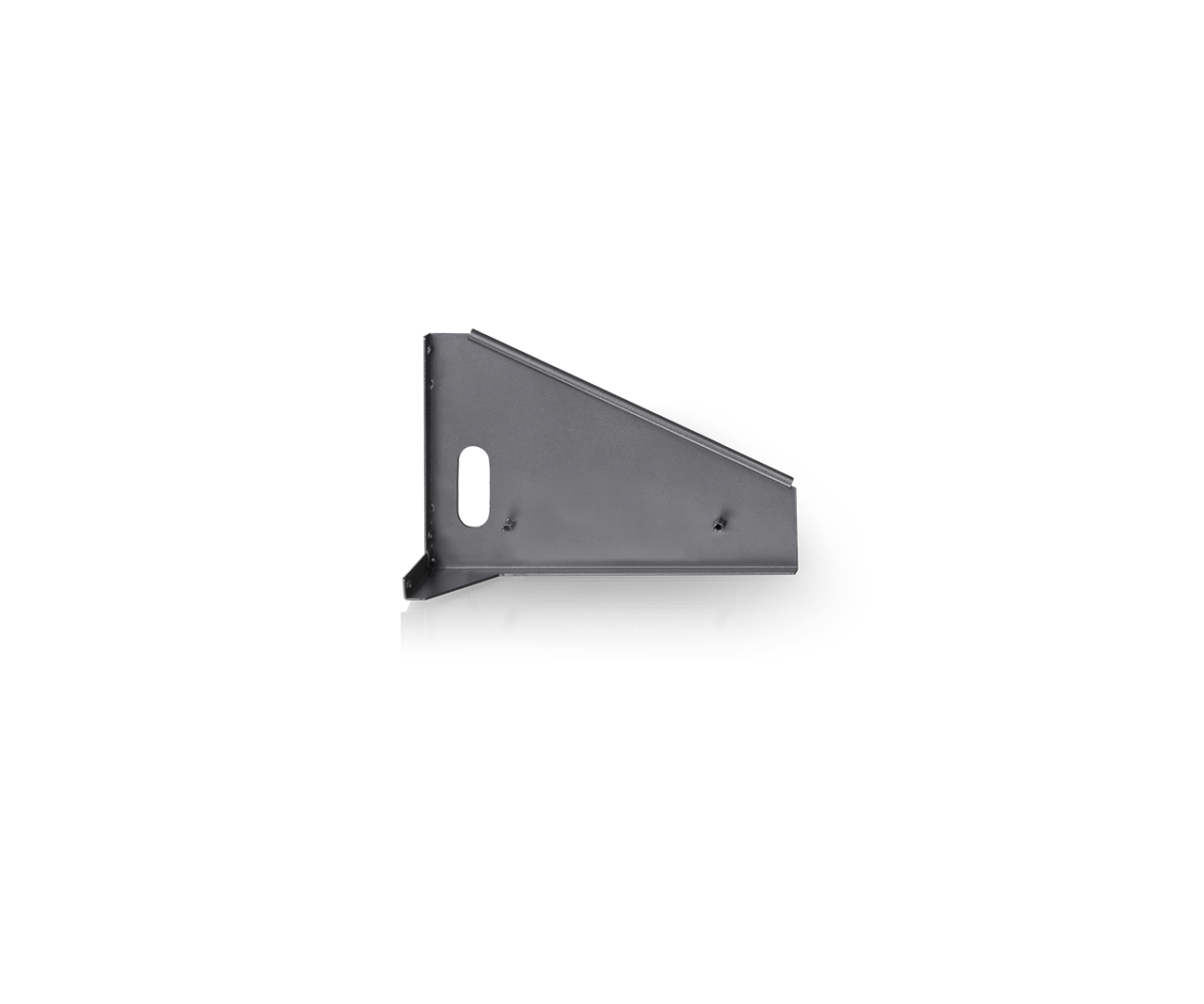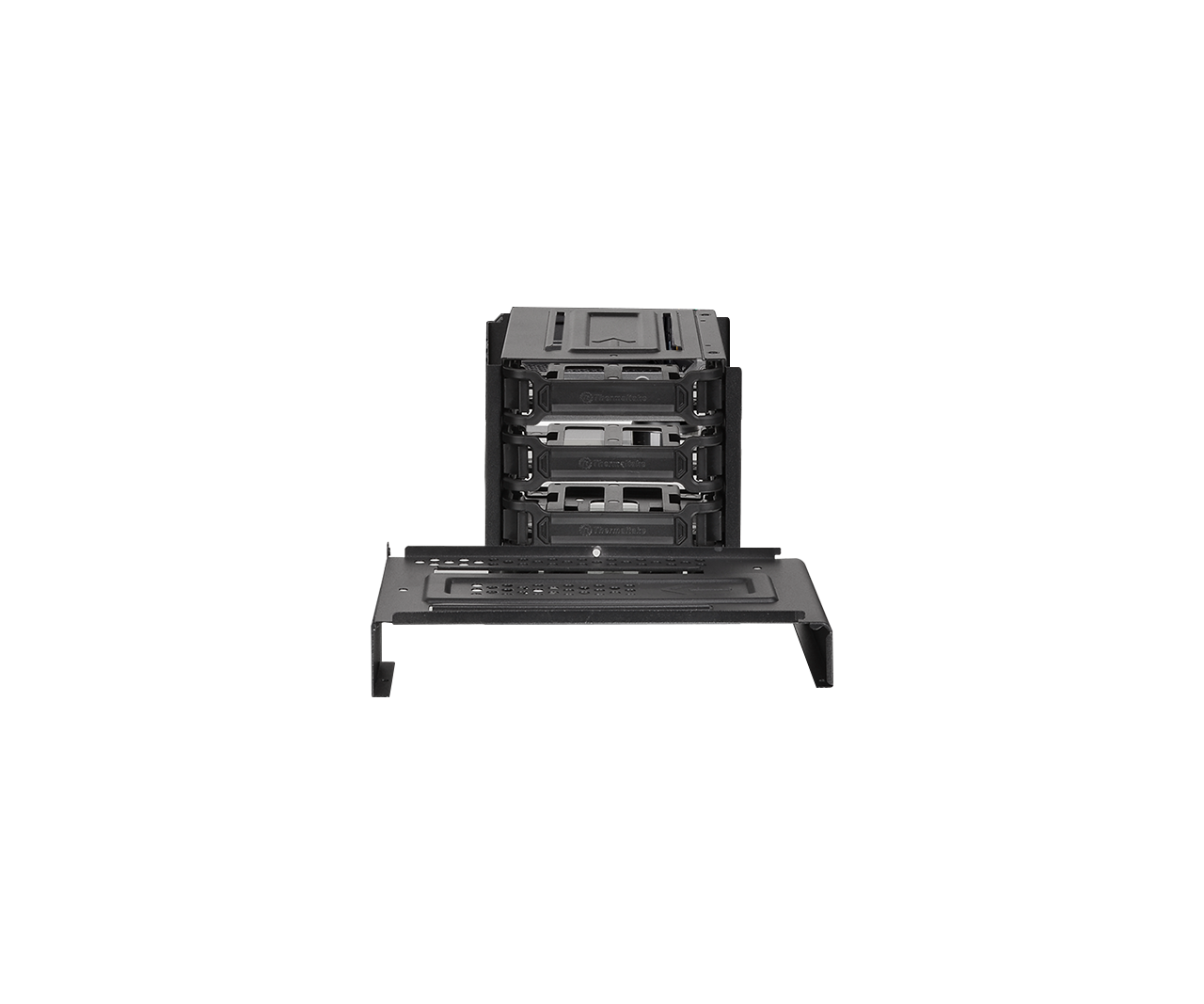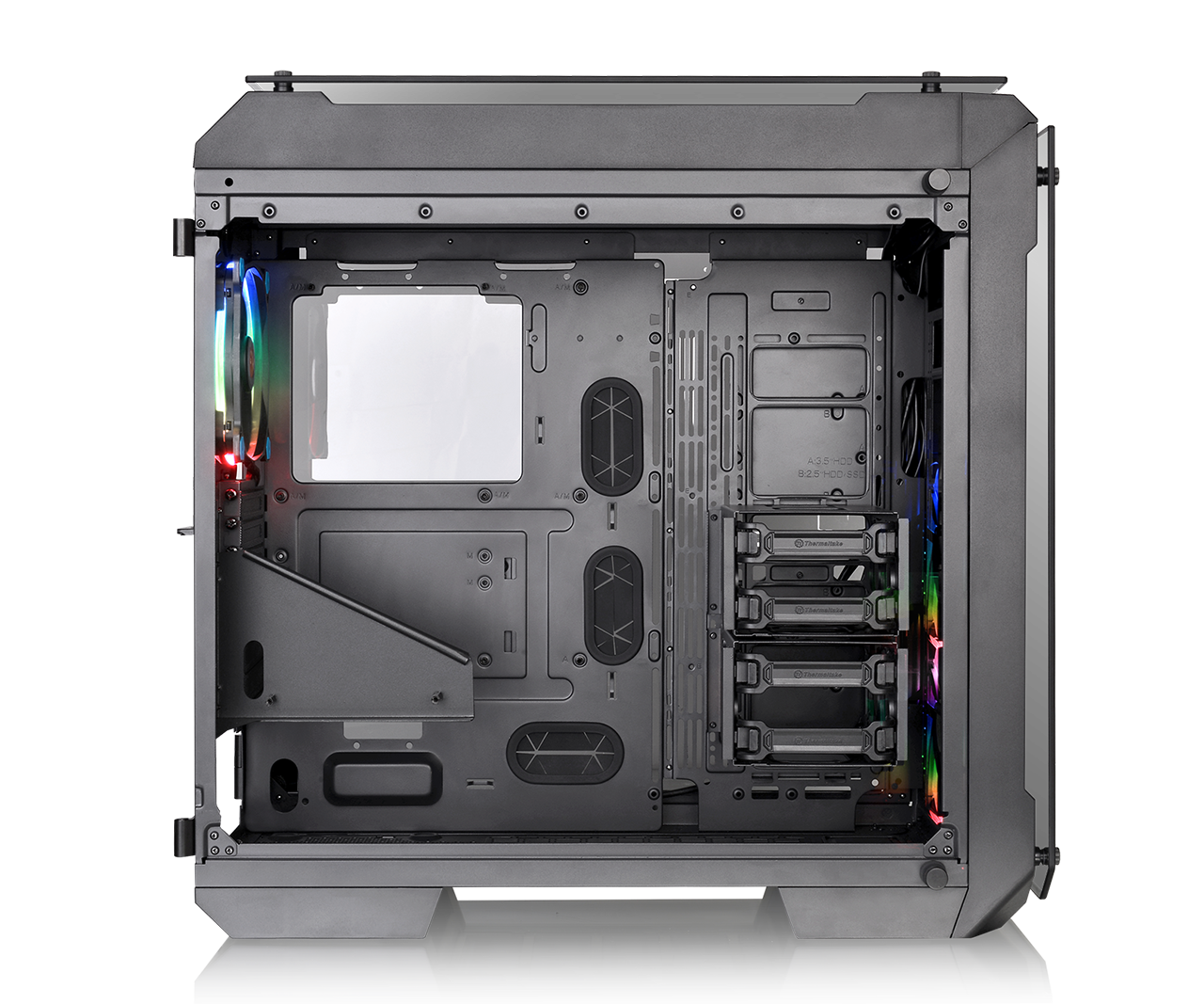 Vertical GPU Mount
Specially designed with dual GPU placement options, the View 71 TG RGB has support for both vertical and horizontal graphics card layouts. With dual PCI-E slot designs (and an optional PCI-e riser cable), the included riser GPU support bracket can not only prevent the graphics card from sagging, but also help reduce the overall weight on the motherboard.

Thermaltake TT Premium PCI-E 3.0 Extender (Optional) – Supports a wide range of GPU solutions. This is an extreme high-speed cable with highly-routable design, EMI shielding with conducting polymer are crafted for meeting the most demanding system. Available in 300mm, 600mm and 1000mm length.
Learn More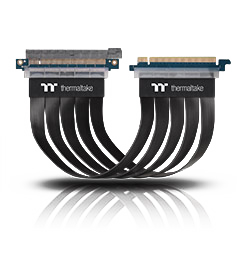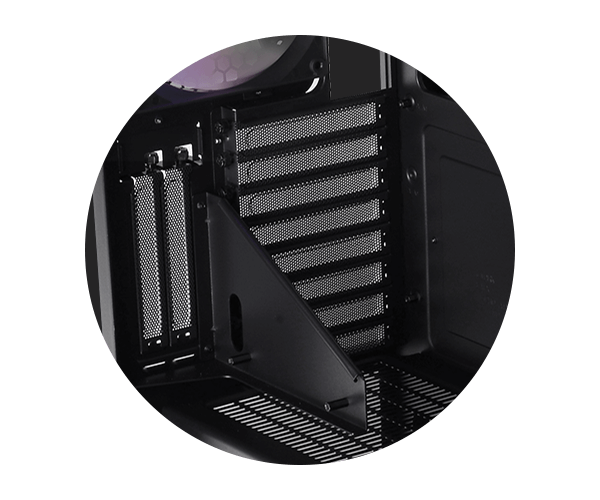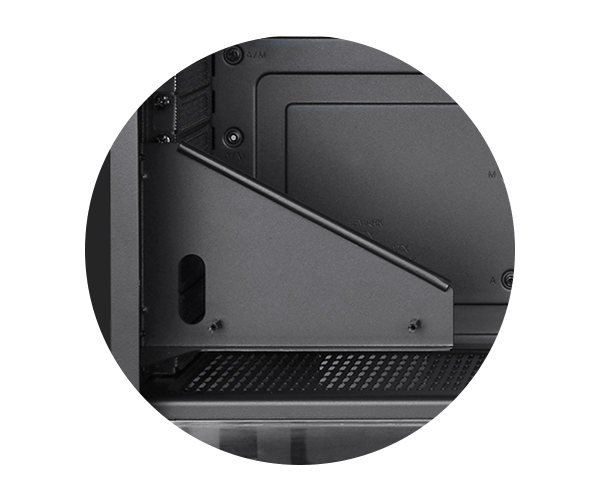 The image is for reference only.

 
Vertical Radiator View (VRV)
Turn the tides on traditional radiator mounting and bring out the glorious view of custom loop or all-in-one radiator applications with vertical radiator viewing. Supporting proper placement for 120mm and 140mm radiator applications up to 420mm in length, gain more compatibility when pairing up both CPU and GPU cooling solutions. Take on even more with custom loop options for enthusiast grade cooling, fitment and flow.
The image is for reference only.
Recommend to use Thermaltake's all-in-one liquid cooler when applying vertical AIO radiator mounting.

 
Tool-Free Installation
Innovative 3.5" and 2.5" tool-free drive bay design minimizes the hassles of installation/removal, allowing users to freely interchange the 3.5" and 2.5" storage drives to secure and store with ease.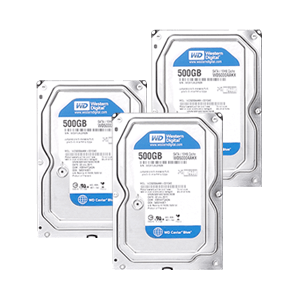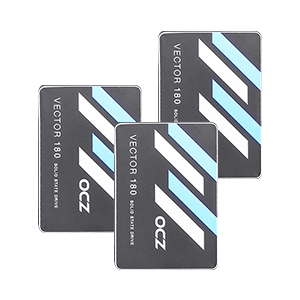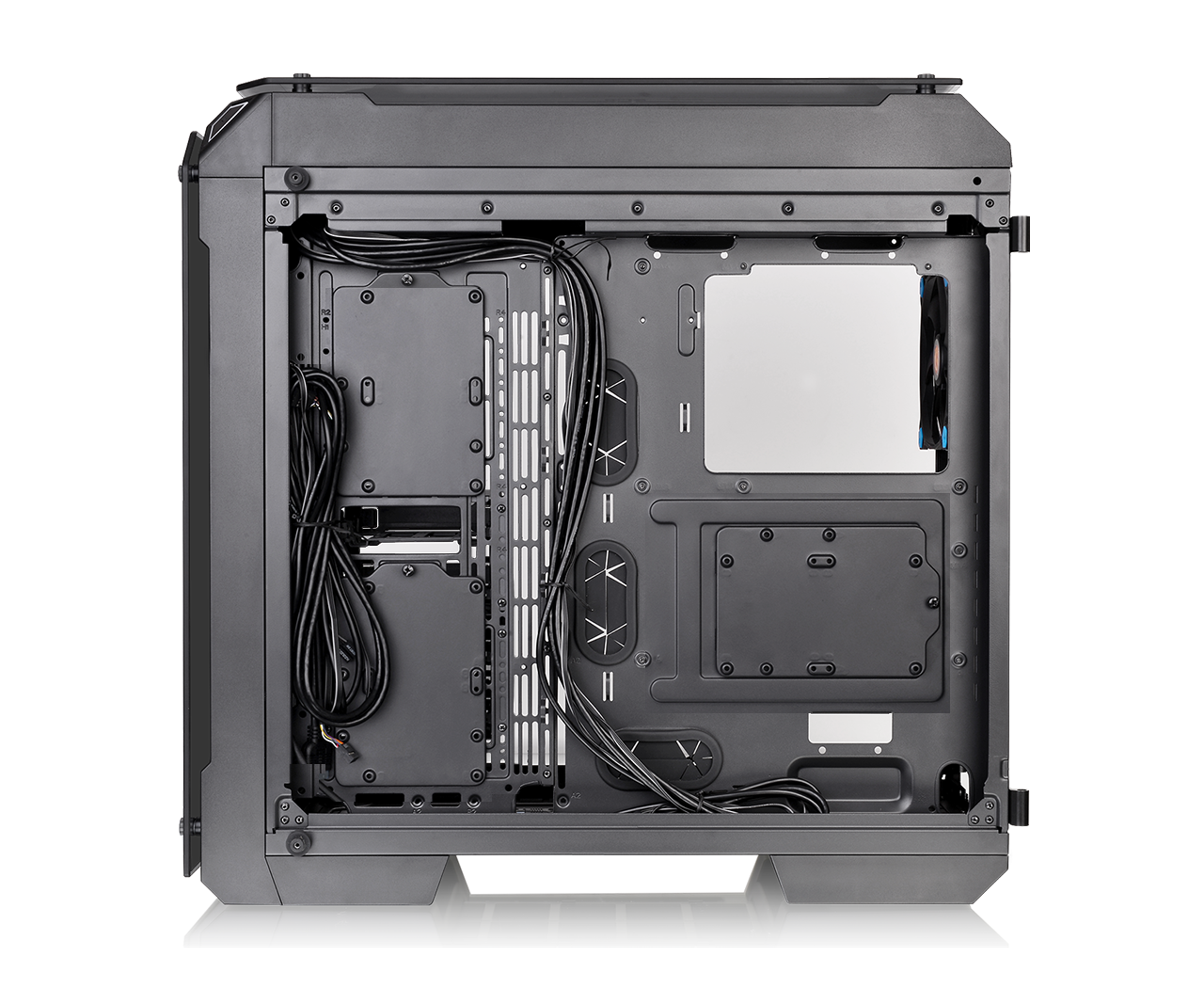 Extensive Hardware and Liquid Cooling Support
The View 71 TG RGB Edition has plenty of space for advanced AIO/DIY liquid cooling components and supports all kinds of AIO liquid cooling solutions. It is able to hold up to triple 420mm custom liquid cooling radiators and up to 360mm AIO liquid coolers. Most importantly, the case design is optimized for providing users a quick way to access the drain valve without having to tilt the entire PC when draining coolant from the loop.

Moreover, the View 71 TG RGB Edition maximizes airflow with three built-in 140mm Riing RGB fans with two at the front and one at the rear. Options for up to three 120mm front fans, combined with two bottom mount 120mm fan locations and top rails to mount up to three 120mm or 140mm fans.

120mm
140mm
240mm
280mm
360mm
420mm

DMD: Dismantlable Modular Design
The View 71 TG RGB Edition enables users to freely build their system from the ground up with modular panels, racks, brackets, and pre-design mounting arrays. No more unreachable screw corners or gaps to enjoy even more space for your precious parts during installation or maintenance.
Radiator Support List
Radiator Compatibility List
|   | 120mm | 240mm | 360mm | 140mm | 280mm | 420mm |
| --- | --- | --- | --- | --- | --- | --- |
| Front | ● | ● | ● | ● | ● | ● |
| Top | ● | ● | ● | ● | ● | ● |
| Rear | ● | - | - | ● | - | - |
| Right | ● | ● | ● | ● | ● | ● |
| Bottom | ● | ● | - | - | - | - |
All-in-One Compatibility List
(Water 3.0 and Floe series)
|   | Performer | Pro | 240 Series | 360 Series | 140 Series | 280 Series |
| --- | --- | --- | --- | --- | --- | --- |
| Front | - | - | - | - | - | - |
| Top | ● | ● | ● | ● | ● | ● |
| Rear | ● | ● | - | - | ● | - |
| Right | ● | ● | ● | ● | - | - |
| Bottom | - | - | - | - | - | - |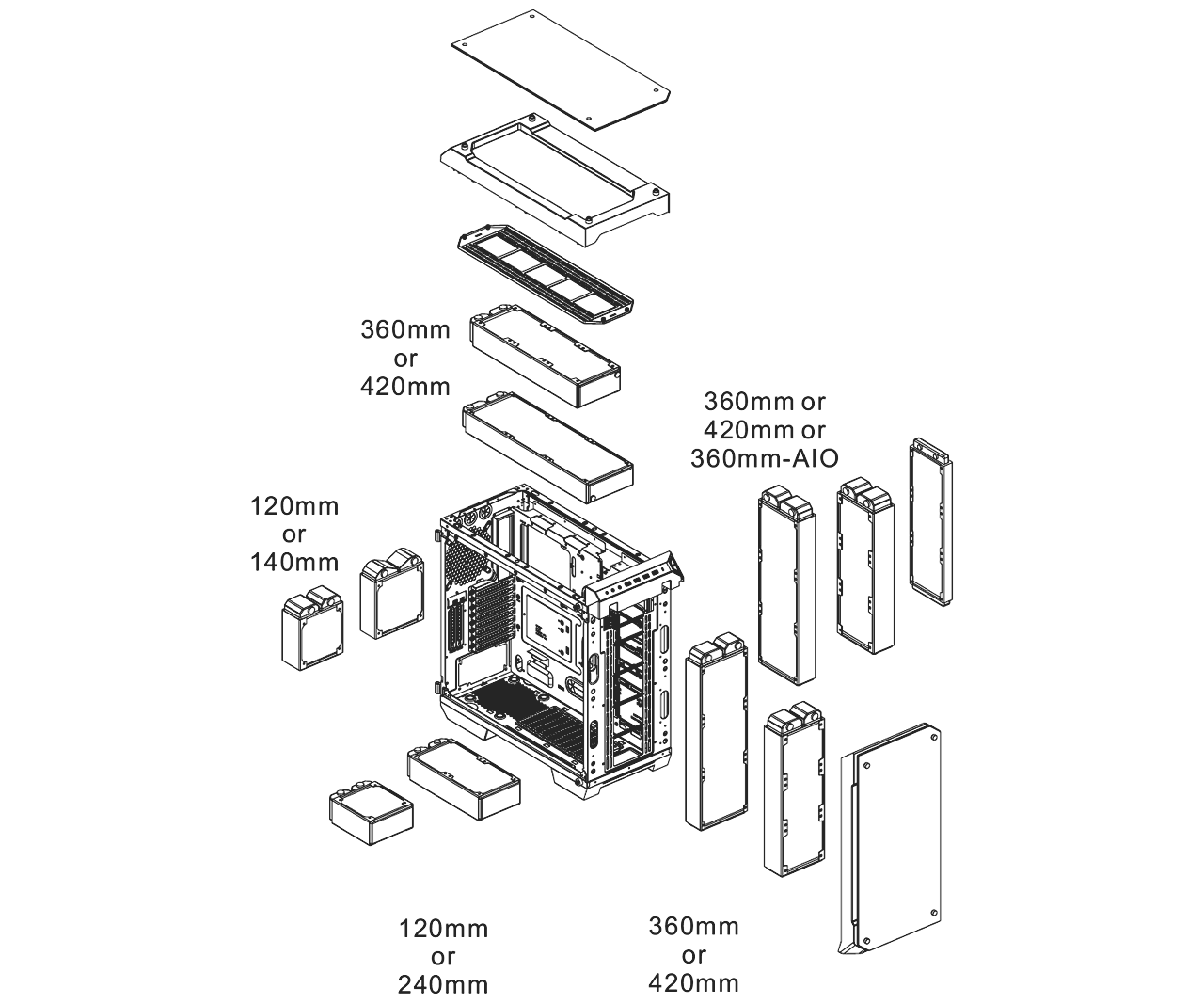 Fan Support List
Fan Compatibility List
|   | 120mm | 140mm | 200mm |
| --- | --- | --- | --- |
| Front | 3 | 2 | - |
| Top | 3 | 3 | - |
| Rear | 1 | 1 | - |
| Bottom | 2 | - | - |
Thermaltake Compatible Fan
|   | 120mm | 140mm | 200mm |
| --- | --- | --- | --- |
| PURE FAN Series | ● | ● | - |
| LUNA FAN Series | ● | ● | - |
| Riing FAN Series | ● | ● | - |