SKU:TR-500CUS
Regular price
Sale price
$34.99 USD
Unit price
per
Sale
Sold out
Cable Management Optimized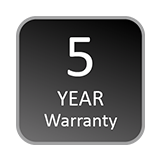 View full details
Design

Specification

Download

TR2 500W (US)
- Cable Management Optimized
– Elongated cables enable enthusiasts and power users to properly route the cables in optimal location to prevent airflow blockage. Significantly improving computer system's overall thermal efficiency, as well as the aesthetic.
- Intelligent 120mm Cooling Fan
– Large 120mm cooling fan with intelligent temperature control automatically throttles the fan speed so you get added cooling while working on intensive application or gaming and whisper quiet operation when you need it.
- Designed With Powerful Graphic Card Support in Mind
– So you want to play the latest game title in ultra-realistic settings? Dual 12V rails with plenty of juice to spare supports any graphic card (NVIDIA or AMD).
- Peace of Mind Warranty
– All Thermaltake power supplies, not just the premium models, carry industry's most trusted 5 Years Warranty.
- "Bullet-Proof" Protections
– Good power supplies deliver stable and clean power. Great power supplies goes one step further to include industrial-grade power protections such as Over-Voltage Protection, Over Power Protection and Short-Circuit Protection to expect for the unexpected.
- ATX 12V V2.3 enables most reliable and robust power delivery.
- High-Quality components and dual 12V rails design enable non-stop usage with stable and reliable performance.
- Ready for next-generation multi-core Intel® & AMD CPU.
- Supports Nvidia® & ATI/AMD graphic cards.
- Dimension: 150mm(W)x86mm(H)x140mm(D).
- High reliability: MTBF>100,000 hours.
- Safety / EMI Approvals: UL/CUL/FCC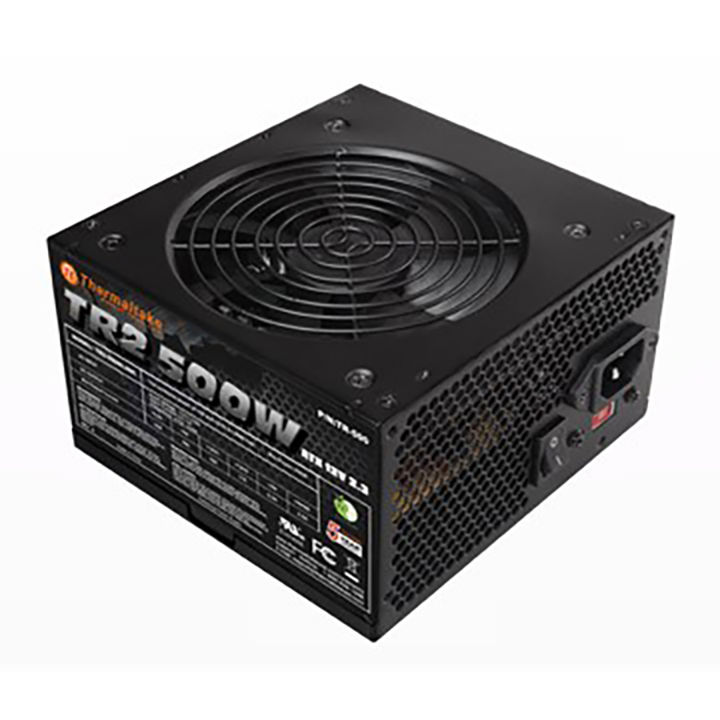 Cable Management Optimized - COOLER-RUNNING COMPUTER GUARANTEED!
While cable management feature is commonly found on premium power supplies, the Thermaltake TR2 500W power supply features elongated cables that are 17% longer, on average, than other power supplies in the same class. The longer cables allow each cable to be routed in optimal location to prevent airflow blockage, thus dramatically improving the overall thermal efficiency of the computer, not to mention aesthetics as well.




"Bullet-Proof" Protections – Good power supplies deliver stable and clean power. Great power supplies goes one step further to include industrial-grade power protections such as Over-Voltage Protection, Over Power Protection and Short-Circuit Protection to expect for the unexpected.



Intelligent Cooling Fan / Temperature Control System
Large 120mm cooling fan with intelligent temperature control automatically throttles the fan speed so you get added cooling while working on intensive application or gaming and whisper quiet operation when you need it.




Supports latest NVIDIA/AMD Graphic Cards
Almost all of today's graphic cards require extra power, which means you'll need PCI-E 6pin or 8pin (6+2pin) connector to ensure the graphic card is able to deliver the maximum performance. Built in PCI-E 6pin & PCI-E 6+2pin connectors for high end graphic card.



Fan Speed & Noise Level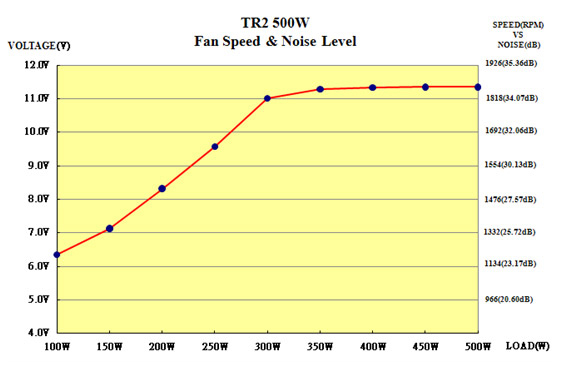 Output Specification
AC INPUT

Input Voltage: 115V / 230V
Input Current: 8A / 5A
Frequency: 47Hz - 63Hz

DC OUTPUT
+3.3V
+5V
+12V1
+12V2
-12V
+5Vsb
Max Output Current
22A

18A

18A

17A

0.3A

2.5A
Max Output Power

500W
Total Protection
Voltage Source

Over Voltage Protection Protection Point

+3.3V

4.5 Vmax.

+5V

7.0 Vmax.

+12V

15.6 Vmax.

+12V

Over Power Protection: Fold back at 440~580W(115/230Vac input)
Short Circuit Protection: All output to GND
Total Output Connector
Main Power
(24 PIN)

ATX 12V
(4+4PIN)

PCI-E
(6+2PIN)

SPCI-E
(6PIN)


SATA
(5PIN)

peripheral
(4PIN)

FDD
(4PIN)

1
1
1
1
6
4
1
Connector Type
Connectors & Cable length

20+4pin

1 x 20+4pin Main connector (600mm)    

EPS/ ATX 12V 4+4pin

1 x EPS/ATX 12V 4+4pin connector (600mm)
SATA

3 x S-ATA connectors (500mm + 150mm + 150mm) 
3 x S-ATA connectors (500mm + 150mm + 150mm)

PCI-E 6+2pin + PCI-E 6pin

1 x 6+2pin PCI-E connector (500mm)+1 x 6pin PCI-E connector(150mm)

Molex & FDD

4 x Peripheral & 1 x FDD connectors (500mm + 150mm + 150mm + 150mm + 150mm