SKU:CL-W239-CA00SW-A
Regular price
$119.99 USD
Regular price
Sale price
$119.99 USD
Unit price
per
Sale
Sold out
RAM Water Block with 4 sets of RAM heat sinks for two-way RAM heat dissipations.
View full details
Design

Specification

Download

Pacific A1 DDR4 RAM Water Block
Pacific A1 DDR4 RAM Water Block is a RAM water block that comes with four sets of RAM heat sinks to provide two-way heat dissipations for RAM. The copper-based water block allows liquid cooling and the aluminum heat sinks provides heat sinks convection for the RAM. The water block is built with 12 high lumens addressable LEDs of 16.8m colors that can be controlled by TT RGB PLUS Ecosystem and sync with motherboards from ASUS, GIGABYTE, MSI and ASRock that have a 5V addressable RGB header. Pacific A1 DDR4 RAM Water Block light up and cool down your memory modules easily!
Tt LCS Certified
"Tt LCS Certified" is the hallmark that ensures first-class performance from the best features and fitment. A certification exclusive to Thermaltake, it sets the benchmark for all true LCS chassis and is applied only to products that meet our stringent design standards for delivering what hardcore enthusiasts demand. The Tt LCS certification is a way for Thermaltake to designate to all power users the chassis which have been tested for best compatibility with extreme liquid cooling configurations.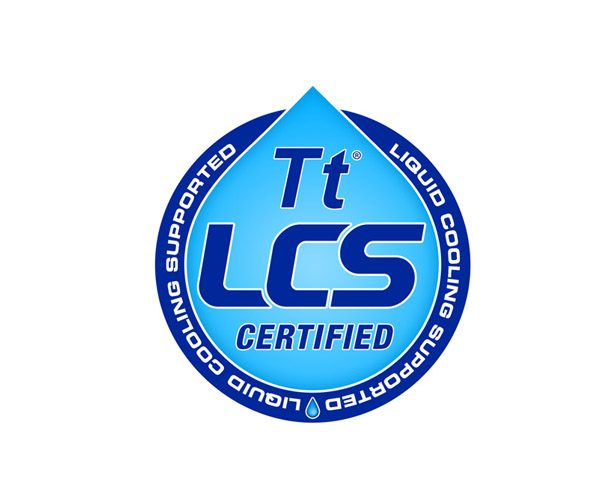 Liquid Cooling or Heatsinks Convection –Two-way, Your Way
Pacific A1 offers the ultimate flexibility when it comes to cooling options. With high performance copper-based water block and aluminum heatsinks, Pacific A1 allows liquid cooling or heat sinks convection cooling.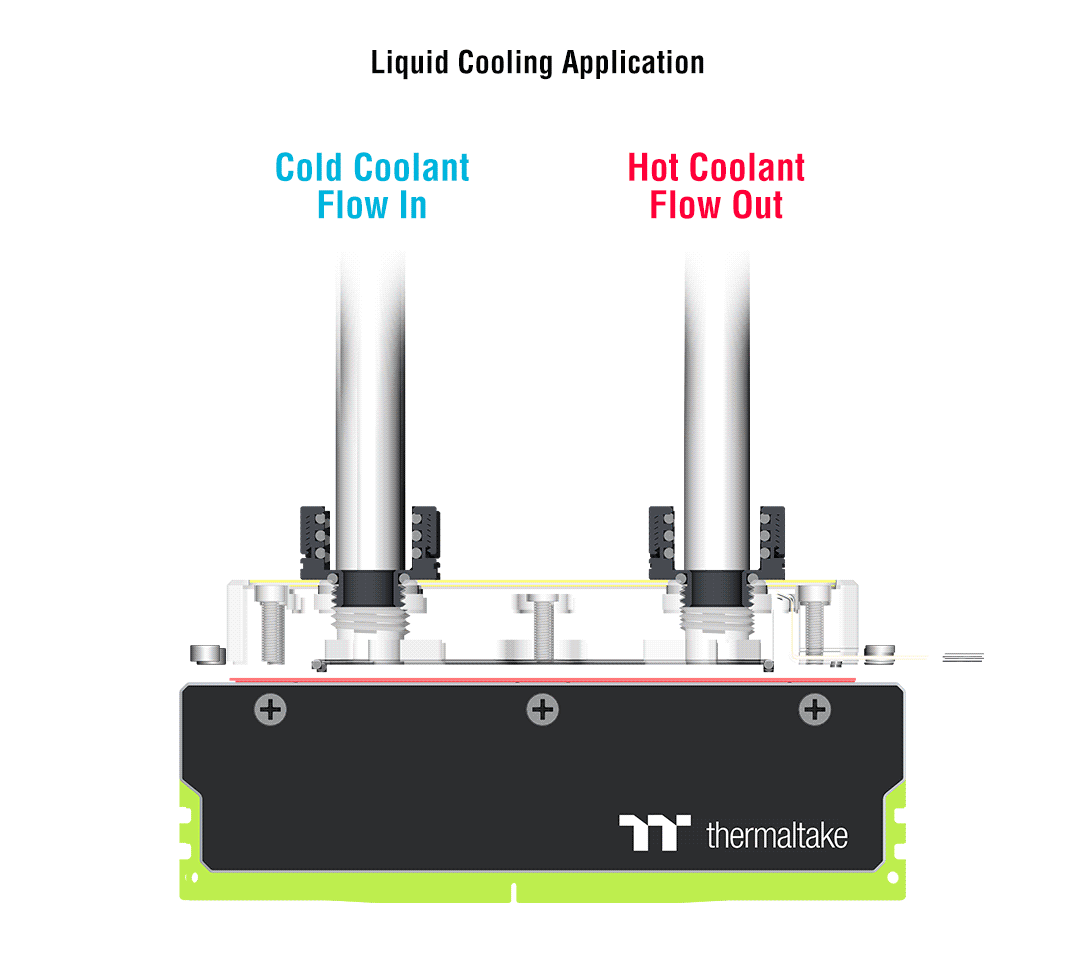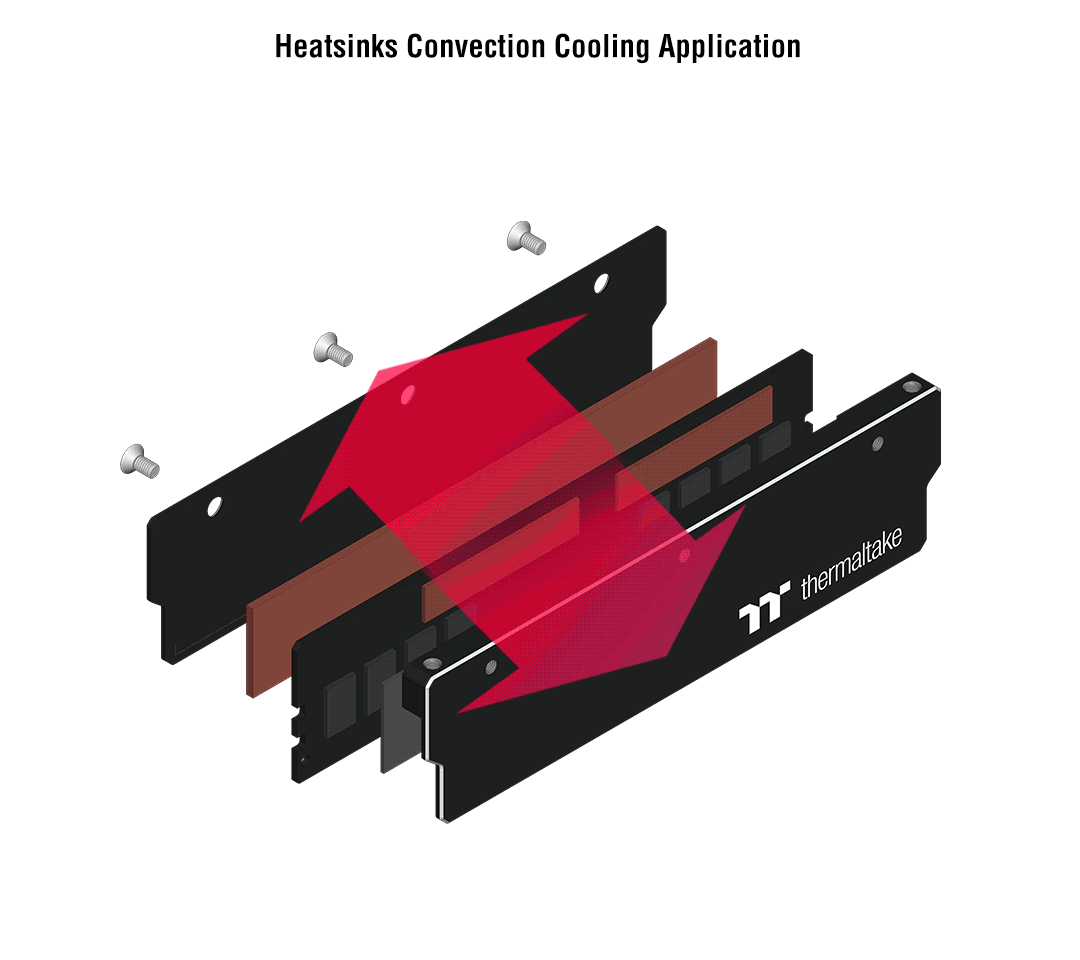 *Pictures are for reference only. RAM not included.

Unique RAM Water Block
Pacific A1 water block is designed with CNC machined copper base, PMMA cover and anti-corrosive nickel plating to allow high water flow to efficiently cool up to four DDR4 memory modules.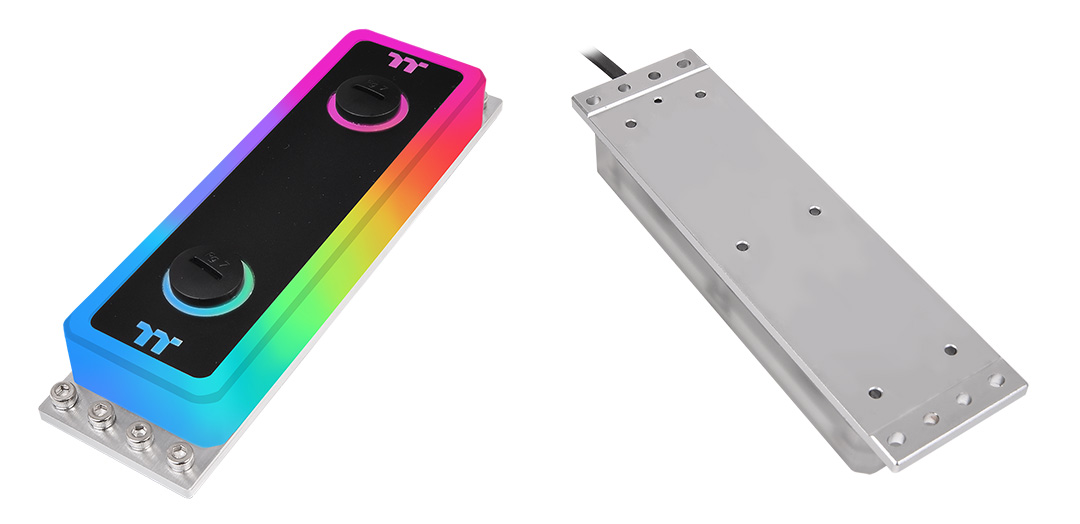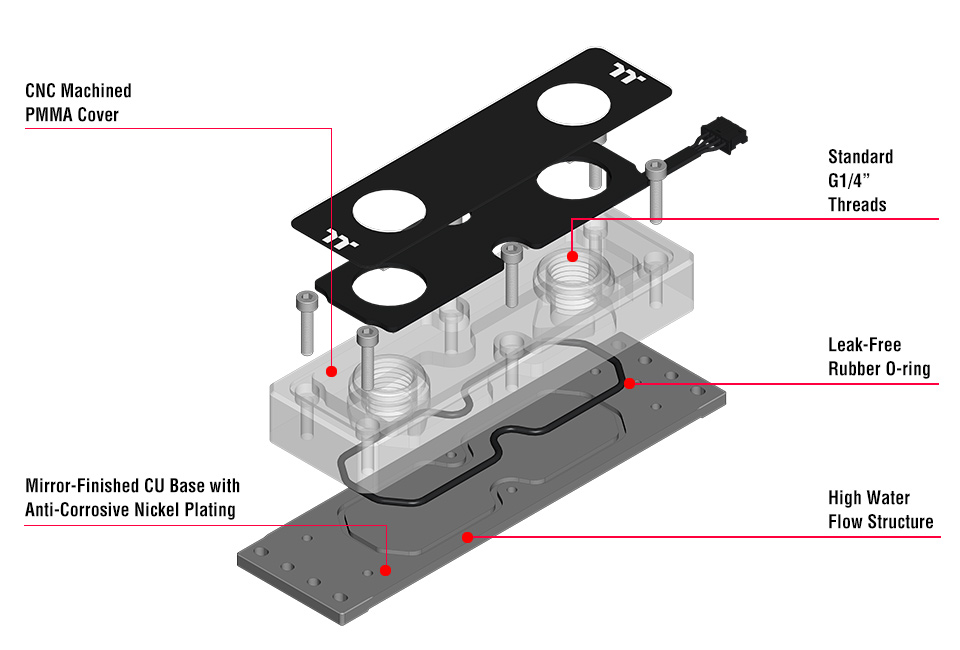 Keep It Cool with Liquid Cooling
Thermaltake's exclusive liquid cooling technology keeps the temperature of the RAM 37% lower than the RAM with only natural convection cooling. Pacific A1's liquid cooling option ensures performance stability and longer lifespan of the RAM.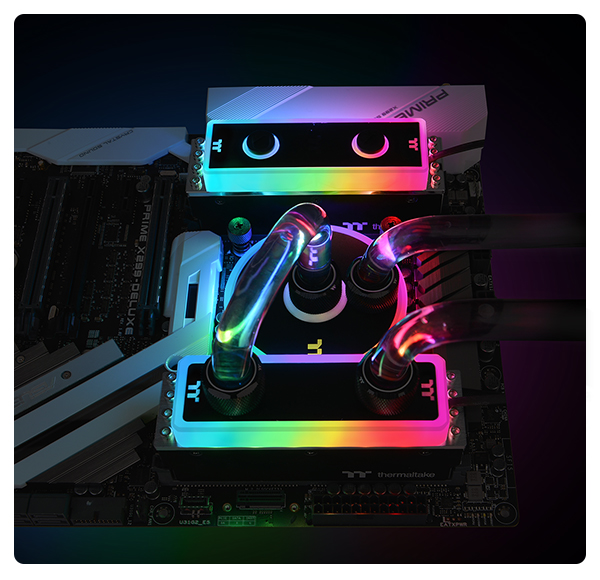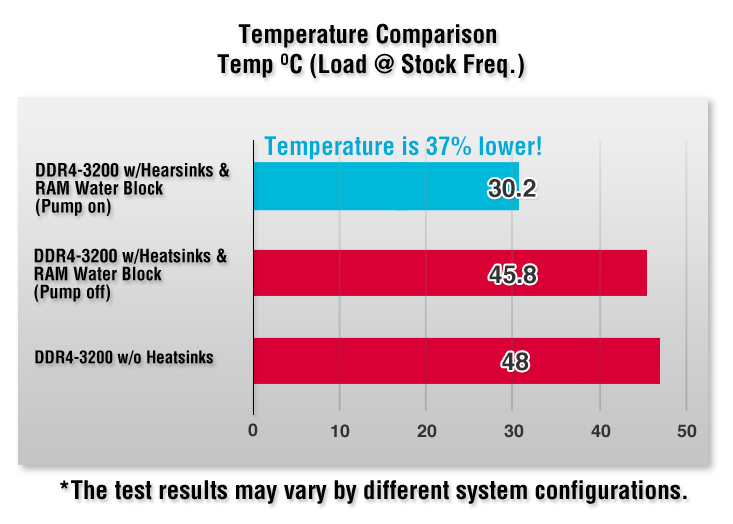 Superb Heatsinks Convection
Pacific A1 comes with four sets of high quality heat sinks. Made with aluminum for optimal heat dissipations the 2mm thick heat sinks offer superior heatsink convection for your memory modules to allow your RAM to stay cool even without water blocks.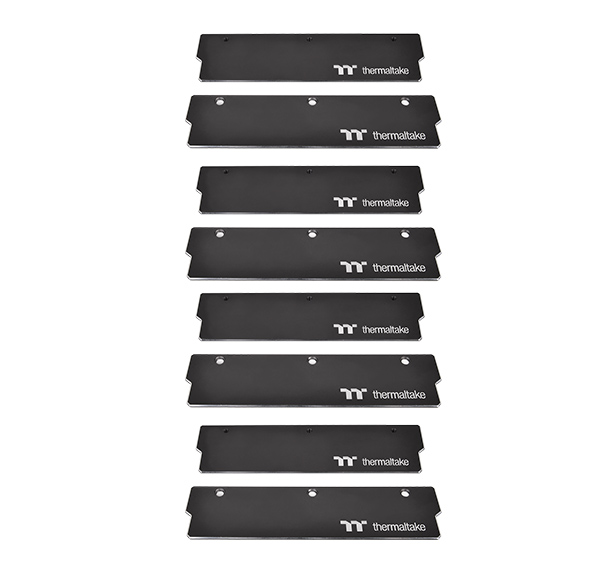 TT RGB PLUS
TT RGB PLUS Ecosystem is the intelligent lighting system for PCs that combines the most advanced addressable LED lighting with Thermaltake's patented TT RGB PLUS Software. TT RGB PLUS ecosystem provides nearly unlimited possibilities for playing with colors, synchronizing lights to games, music, CPU temperatures or other TT RGB PLUS products, including case fans, CPU/VGA waterblocks, AIO CPU coolers, PSUs, LED strips and peripherals. The patented software allows users to change the light modes, colors, speeds, brightness, fan speeds, and even supports AI voice control in iOS and Android devices.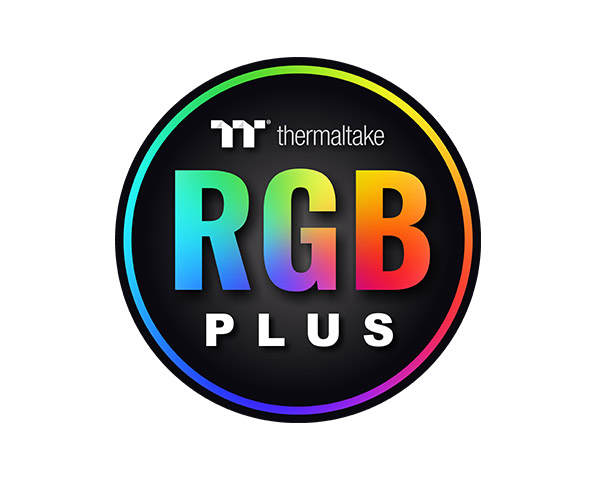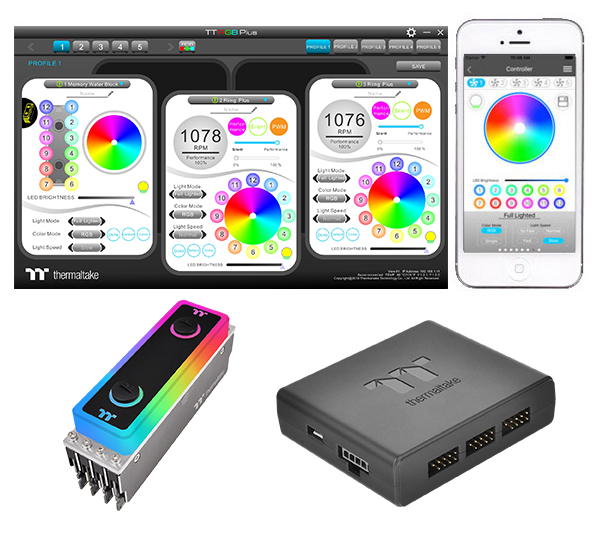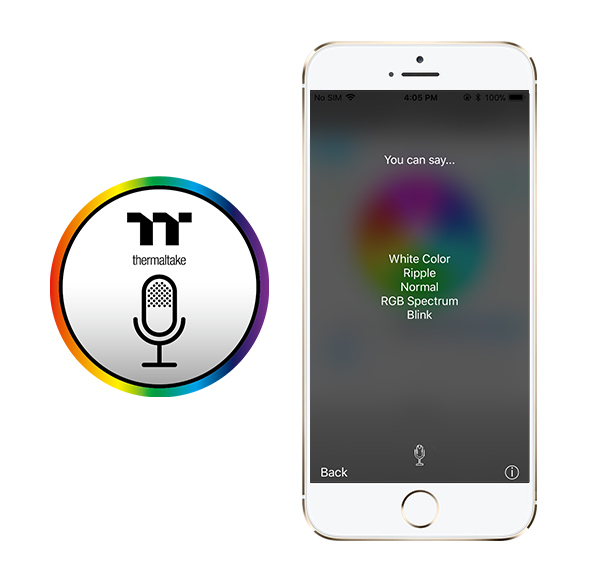 Shine in the Dark
Pacific A1 DDR4 RAM Water Block features 12 high lumens addressable LEDs with 16.8m colors to give you the ultimate RGB experience.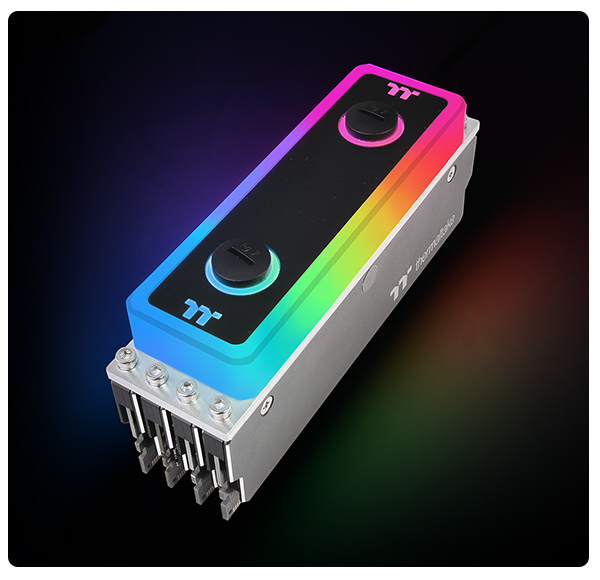 Digital Lighting Controller
The controller is designed with a DIP switch on the back. Hence, you can set a number for each controller easily. You can add up to 5 devices to one lighting controller and up to 16 controllers to the software. The controller and the coding guide are included in all packs.
*It is recommended to connect up to 3 controllers on one peripheral cable (Molex) only.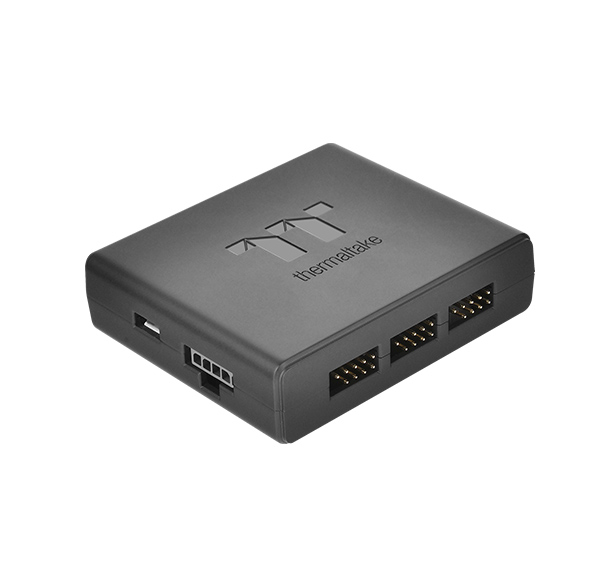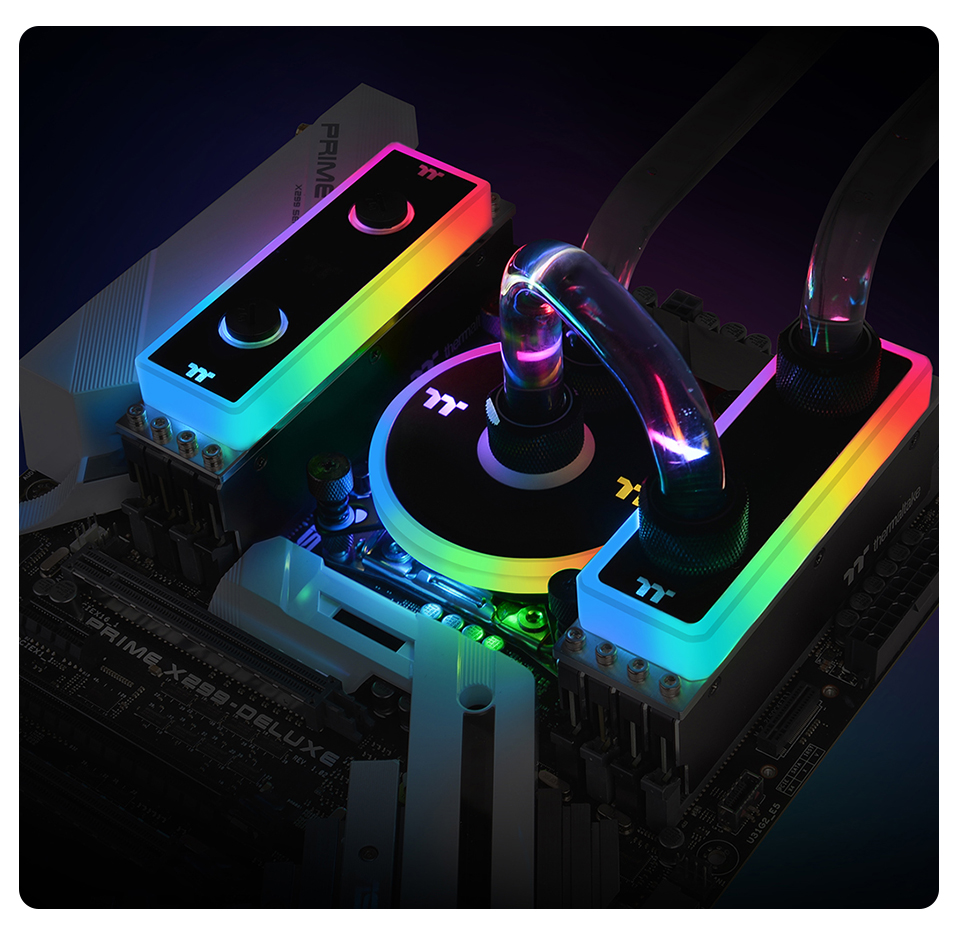 Cautions
Thermaltake recommends the following steps to be taken before using the Pacific series radiators and water blocks

To ensure a clean loop, flush and rinse your radiators and water blocks with distilled water prior to use.
Do not use tap water or distilled water as your coolant, it may harm your loop and reduce performance.
It is strongly recommended to use market proven pre-mix coolant, such as Thermaltake Coolant 1000. It offers great performance while protecting the entire liquid loop from corrosion.
Before storing your water cooling components, please clean, rinse and dry. This will ensure a longer lifespan for your components.
Thermaltake recommends the following steps to be taken after completing your water loop setup

It is strongly recommended to use market proven pre-mix coolant, such as Thermaltake Coolant 1000. It offers great performance while preventing the entire cooling system – copper, brass, nickel, aluminum, and steel – from corrosion.
Fill the reservoir with coolant and cycle the power on and off several times while the pump pushing the coolant into the loop.
DO NOT let the pump run dry, when there is no liquid entering the pump turn off your power immediately
Fill the reservoir to the top as it will prevent air from going into the pump
If necessary tilt the system slightly from side to side to bleed the air out of the loop.
Place some paper towels under fittings and joining points to test for leaks.
Run the loop with the fill port open for about 24 hours to completely bleed the air out of the loop.
Before starting, flush out your system correctly to prevent any coolant or unwanted particles sticking to your tubes, radiators and other cooling components.
Coolant might fade over time.