SKU:MP-DCM-RGBHMS-02
Regular price
Sale price
$39.99 USD
Unit price
per
Sale
Sold out
The DRACONEM RGB Touch Edition comes equipped with 16.8 million RGB color illumination, 4 stunning lighting effects, coupled with a completely new left, right and bottom design construction for even greater color illumination. The surface of the mouse pad is specially optimized and creates play that is balanced for both speed and control. The highlight feature of the DRACONEM RGB Touch Edition is a state-of-the-art biometric FIDO certified Touch ID System, which allows for easy login to PC systems, access to favorite web pages, and secure file and folder encryption. In addition, enthusiasts can further customize their desired lighting settings with both hardware and software controls for even greater color personalization.
View full details
Design

Specification

Download
CUSTOMIZE YOUR LIGHTING EFFECT WITH THE GAMING SOFTWARE
With the new DRACONEM RGB software, you can now adjust and customize all your lighting effects, colors, brightness and speed via software. Users can also create and save up to 3 different profiles to suit all their color preferences.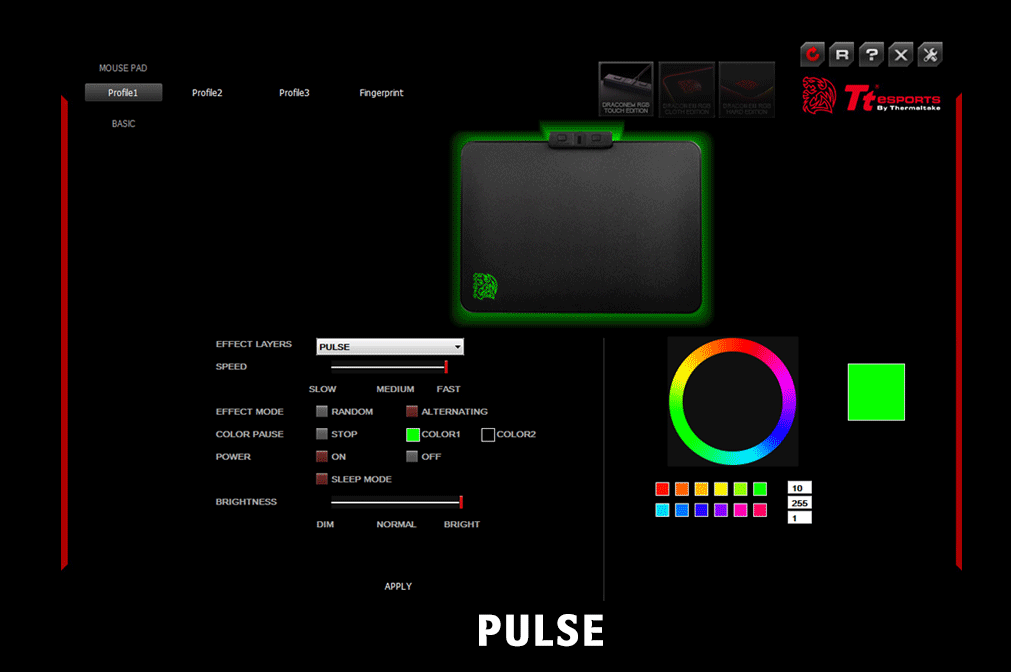 New software features include:
Improved graphical user interface (GUI)
Ability to change lighting effects (*4) via software
Ability to save up to 3 individual profiles via software
Adjust lighting effects, speed, color, and brightness via software

SOFTWARE DOWNLOAD
STUNNING VISUAL 16.8M ILLUMINATION
The DRACONEM RGB Touch Edition comes packed with 4 striking visual illumination effects (Static, Pulse, Wave & Spectrum Running) and 5 brightness levels to suit your preference. Engineered using the highest quality of components, the DRACONEM RGB Touch Edition provides purer, more accurate color illumination. Personalize and color your mouse pad the way you want.


EXPERIENCE DRACONEM RGB Touch Edition LIGHTING >>
STATIC

PULSE

JUMPING

SPECTRUM RUNNING

WAVE
256 BIT ADVANCED ENCRYPTION STANDARD
The advanced Encryption Standard or AES is a specification for the encryption of electronic data established by the U.S National Institute of Standards and Technology (NIST) in 2001. It has been approved by the NSA for use in top secret information and comes in three different 128, 192, 256 key lengths. The DRACONEM RGB Touch Edition uses the highest 256 security key length for maximum protection.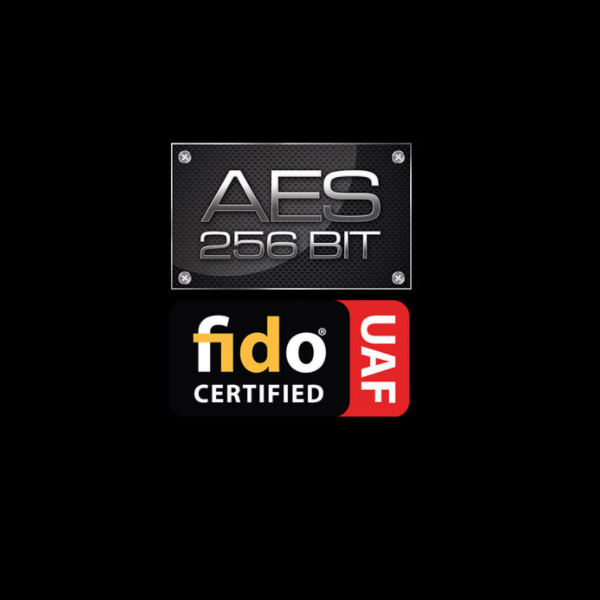 FIDO UAF CERTIFIED PASSWORDLESS EXPERIENCE
With the use of the Fast Identify Online (FIDO) UAF standard, the DRACONEM RGB Touch Edition provides interoperability of the security mouse pad and addresses the problems users face when trying to create and remember multiple usernames and password by creating a strong, safe and secure passwordless experience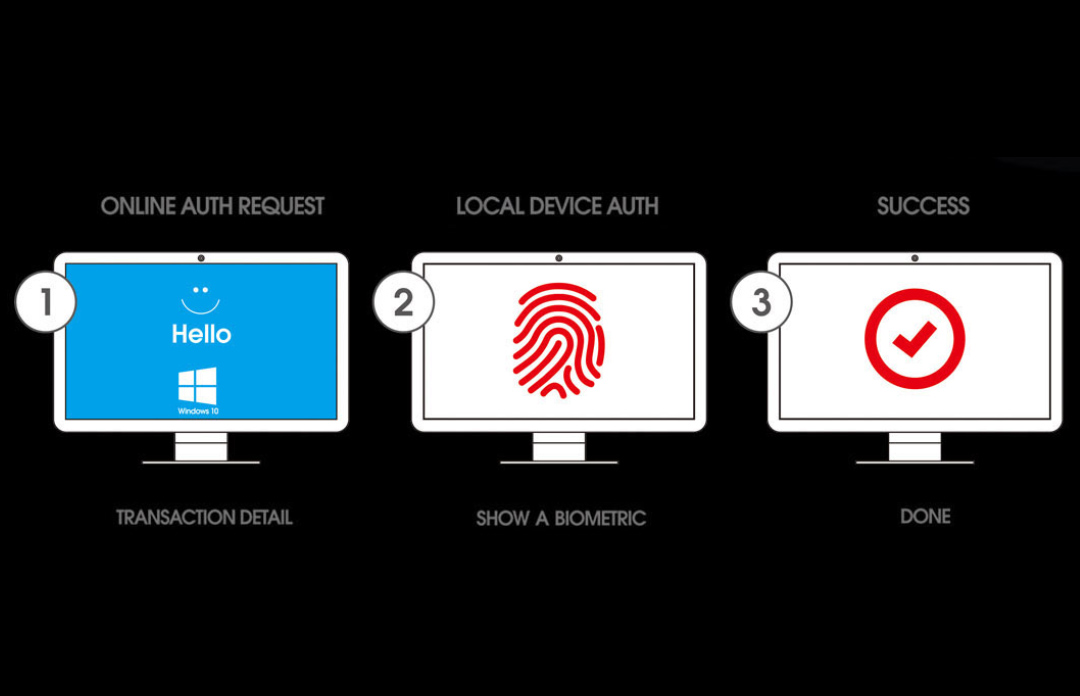 FINGERPRINT RECOGNITION SENSOR WITH IRON VEIL TECHNOLOGY
The DRACONEM RGB Touch Edition uses the latest biometric sensor with "Iron Veil" technology by Synaptics. The sensor offers speedy and intuitive fingerprint authentication with strong, safe, secure windows and website login.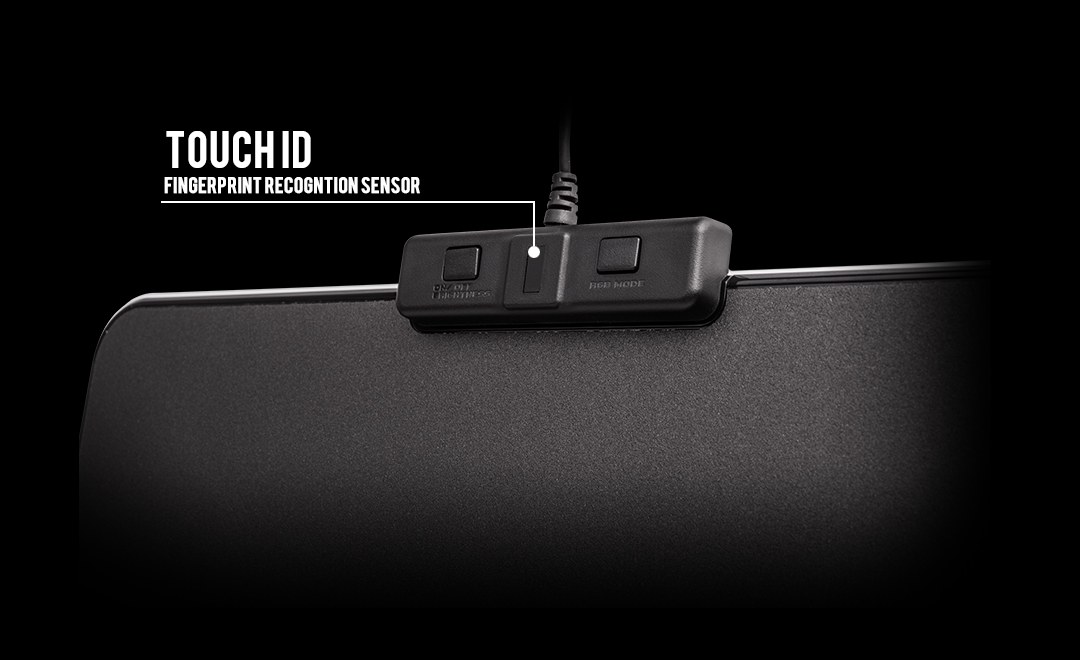 SECURE BIOMETRIC ENCRIPTION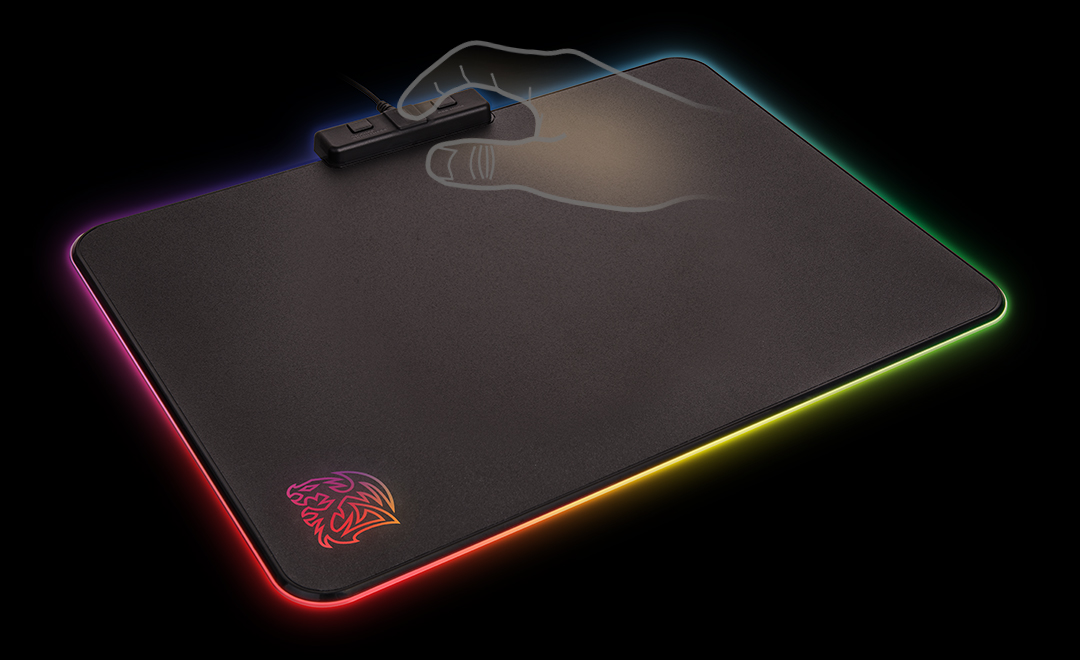 EASY SOFTWARE INSTALLATION AND USE
Step 1. Enter the DRACONEM RGB TOUCH EDITION software and select the fingerprint option
Step 2. Enter your Windows password for first time registration
Step 3. Select desired finger for registration
Step 4. Place selected finger on the fingerprint sensor of the BLACK FP and lift and rest repeatedly until successful completion is highlighted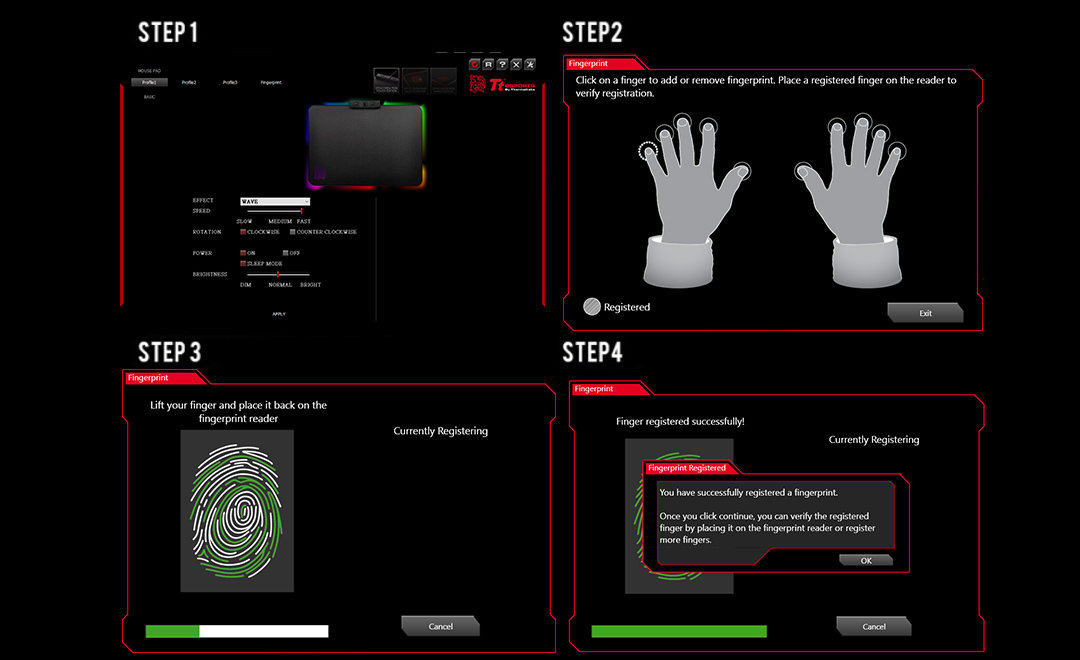 PASSWORDLESS EXPERIENCE
Passwordless experience for easy to use and convenient login for Windows, Facebook, and secure file and folder protection with biometric security.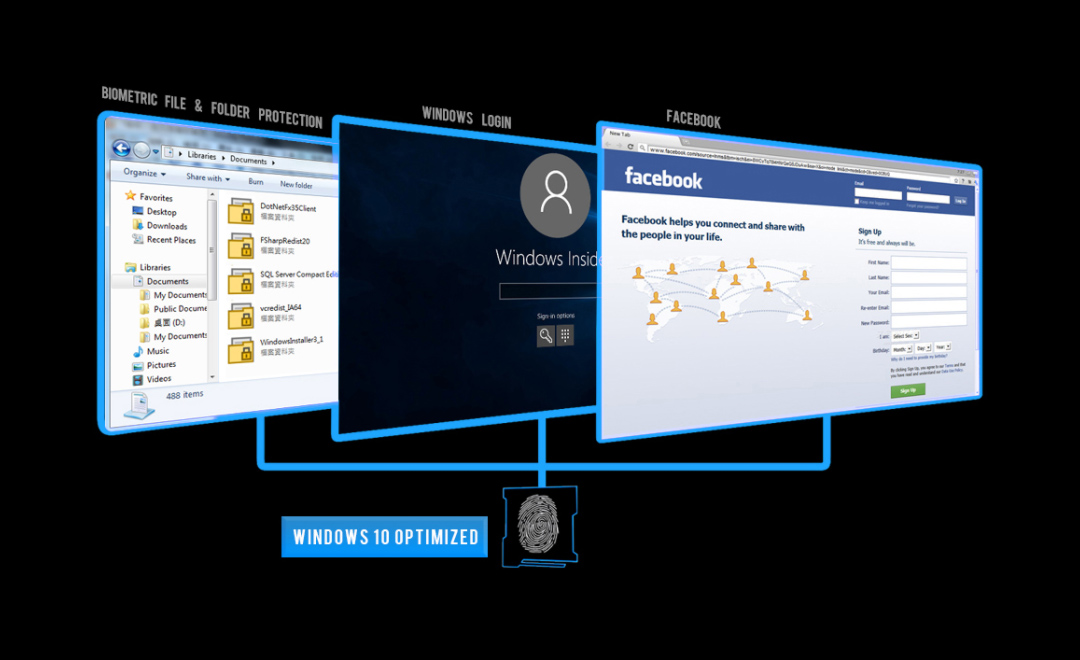 SPECIAL OPTIMIZED SURFACE COMPATIBILE
The DRACONEM RGB Touch Edition comes with a special optimized surface that allows strong tracking that all gamers need for superb accuracy during intense gameplay.
EASY CONTROL
With two easy control buttons, users can easily change lighting effects or adjust brightness levels on-the-fly without the use of software. The conveniently placed Touch ID biometric sensor located in the middle provides easy reach for access to PC System login, websites, and files/folders.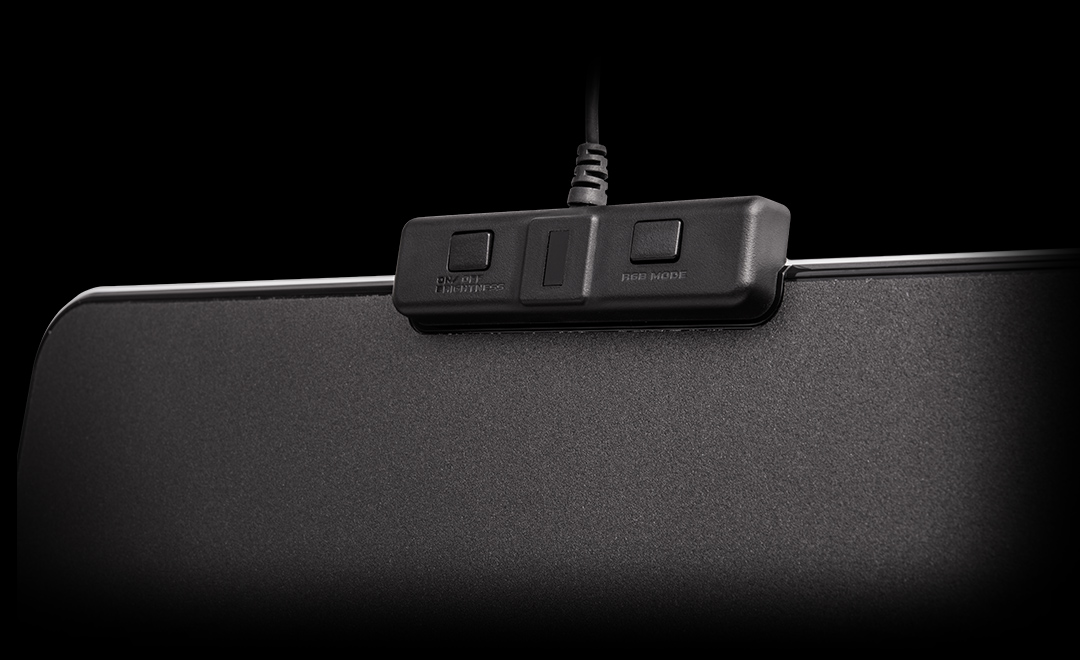 NON-SLIP RUBBER BASE
A special non-slip rubber base ensures the DRACONEM RGB Touch Edition mouse pad will remain secure and sturdy as you game, even in the most intense of battles. Play with confidence and never worry about lift-off or slippage of your mouse pad.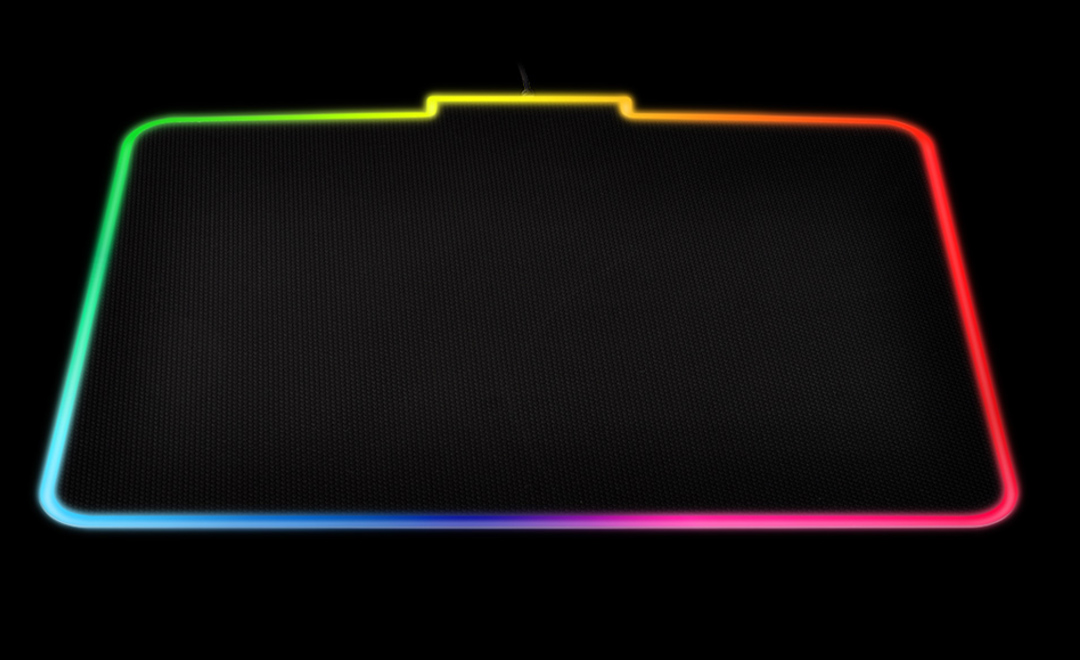 BALANCED GAMEPLAY
The DRACONEM RGB Touch Edition is designed with a micro-textured finish that delivers best-in-class accuracy with flawless speed and precision. Perfect for competitive gamers where speed and accuracy reigns supreme.