SKU:CA-1X7-00F6WN-00
Regular price
$159.99 USD
Regular price
Sale price
$159.99 USD
Unit price
per
Sale
Sold out
Designed to be a smaller alternative to the CTE flagship, the CTE C700 Air retains many of the features while taking up less space. Engineered to provide optimal thermal efficiency to ensure critical components of the build are provided with adequate cooling. To achieve this the CTE C700 Air can support up to 420mm radiators in the front and the rear of the chassis and up to 360mm radiators at the bottom of the chassis. Pre-installed are three 140mm CT140 fans.
View full details
Design

Specification

Download
CTE Form Factor
Designed by Thermaltake
The focus for CTE (Centralized Thermal Efficiency) was to provide a high level of thermal performance by altering our approach to traditional case design. The result was a design that utilizes a 90-degree rotated motherboard tray to provide not only more airflow pathways but also more efficient airflow pathways.

With the new fan trays being able to accept up to three 140mm or 120mm fans as well as up to a 420mm AIO Radiator the CTE chassis provides lots of options whether you choose Air, AIO, or DIY Liquid Cooling for your build. Since the motherboard tray has been rotated, direct intake airflow from each of the motherboard trays can more efficiently be directed toward components like the CPU and GPU and then exhausted with the assistance of natural convection.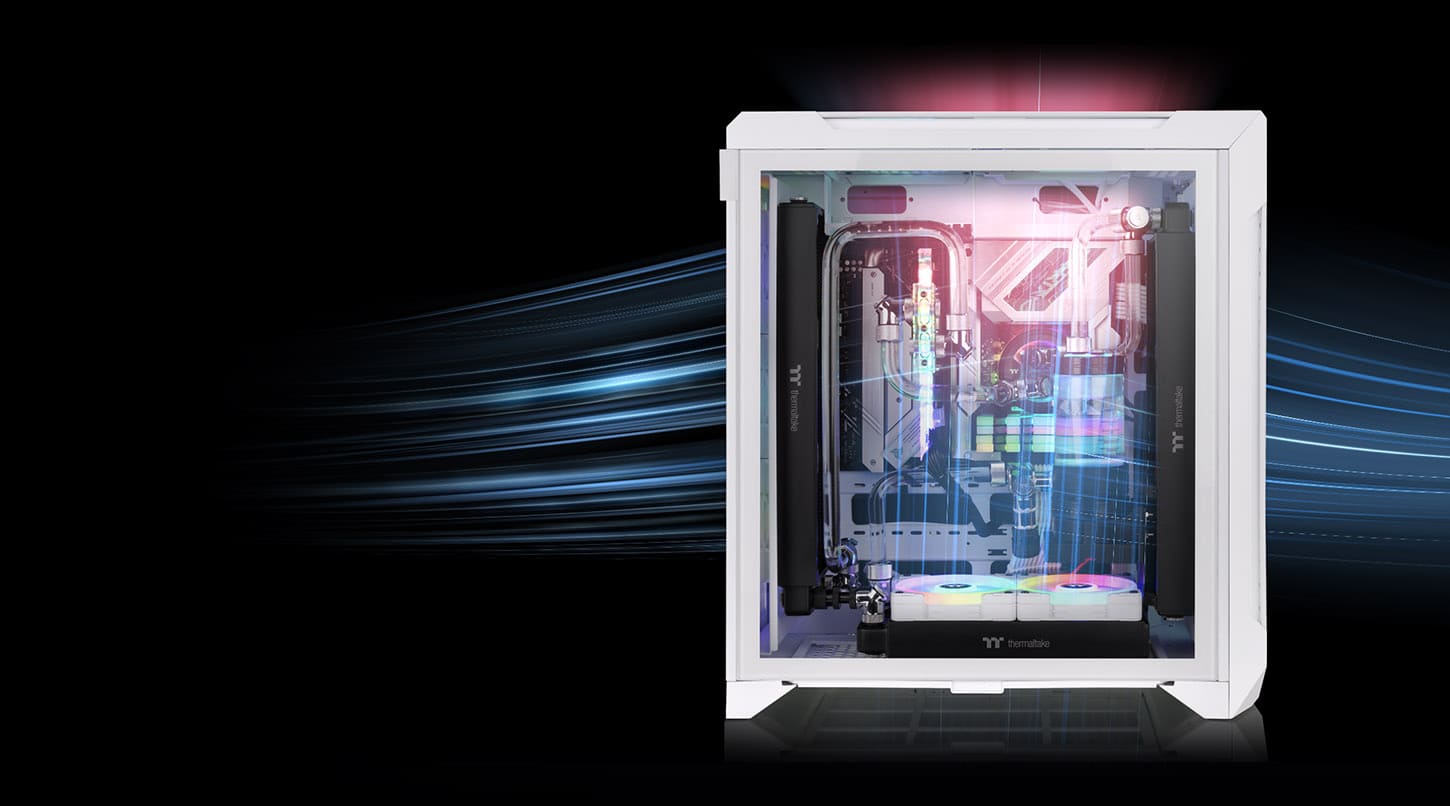 The image is for reference only.
The design utilizes a 90-degree rotation of the motherboard providing more efficient airflow pathways.
The video is for reference only.
Maximized Intake
The rotation of the motherboard tray not only allows the CTE design to bring the CPU and GPU closer to intake sources but also goes one step further in providing them each their own intake sources with space for up to three 140mm/120mm fans or a radiator up to 420mm.
The video is for reference only.
Central Thermal Efficiency
Now that primary heat sources have been centralized in the chassis the additional intake located at the bottom of the case can also assist the dedicated exhaust at the top of the case in removing heat from the system. Combined with the shorter air pathways throughout the chassis the CTE line up is very good with intake and exhaust while still providing plenty of room to build in.
The video is for reference only.
A Balance of Aesthetics and Functionality
Maximum Radiator Support
The CTE C700 offers multiple mounting locations and plenty of room to create your own configurations. DIY radiators up to 360mm in length can be installed on the front, rear and bottom, and for AIO compatibility, up to 420mm/360mm radiators can be installed on the front and rear, giving PC enthusiasts plenty of flexibility to create their ideal setup.
The image is for reference only.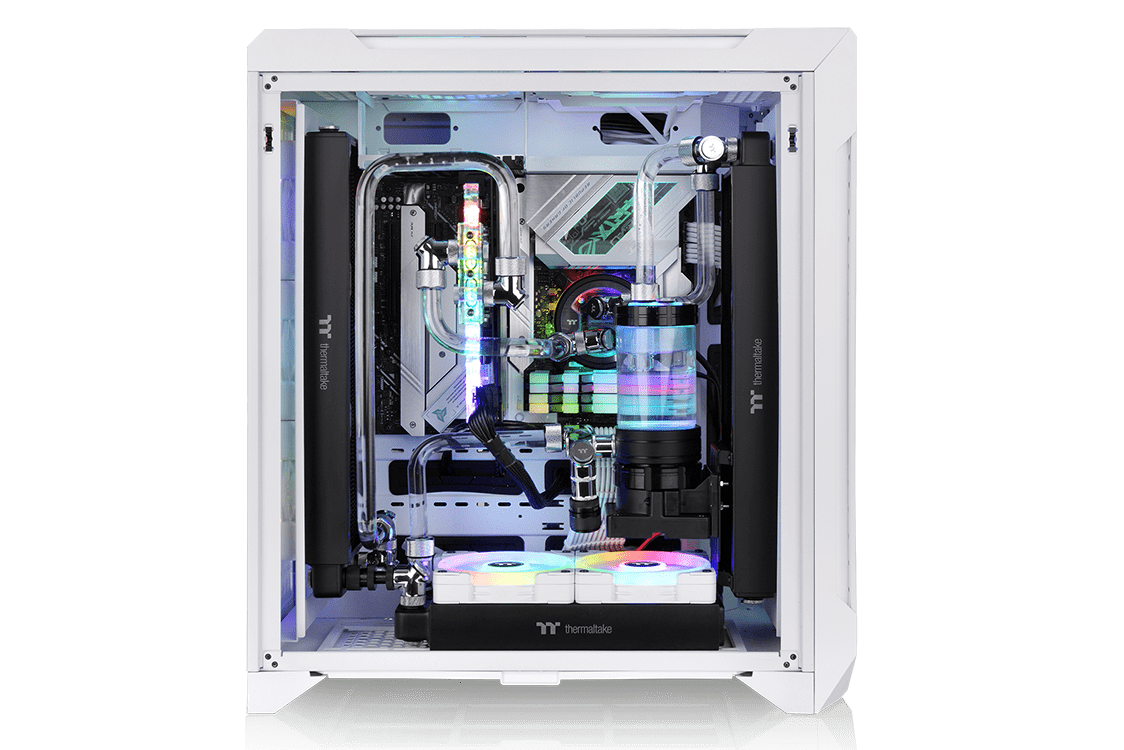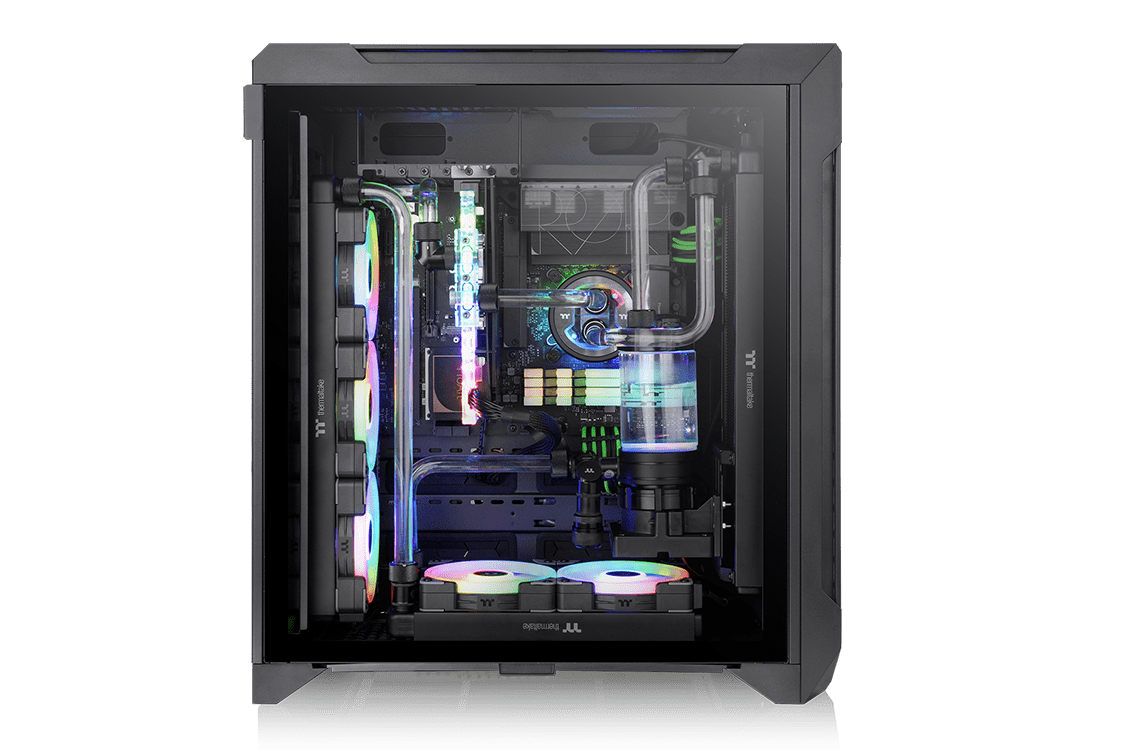 Options to Fit Your Dream Build
The CTE C700 TG comes equipped with features such as enough space to accommodate up to twelve 120mm fans and eleven 140mm fans, removable fan trays and pump mounts, as well as accepting 360mm/420mm radiators at the front and rear and 360mm radiators on the bottom of the chassis.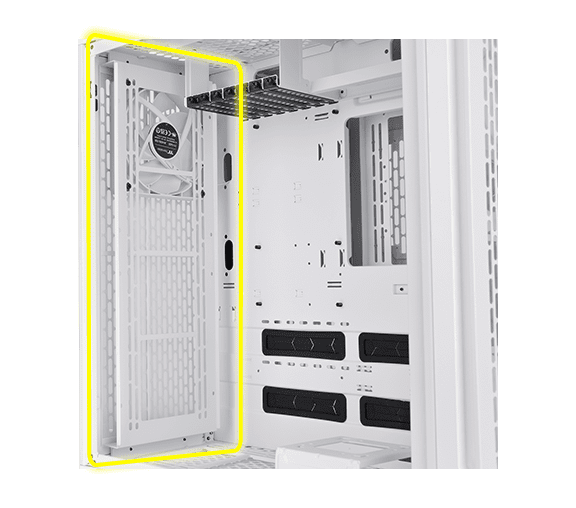 Rear Fan Bracket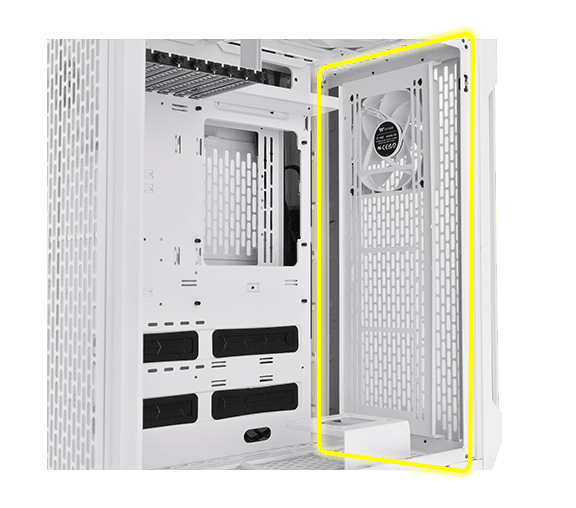 Front Fan Bracket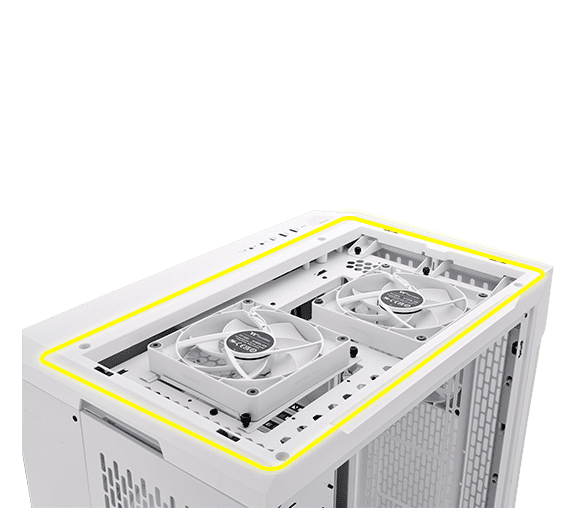 Top Fan Vent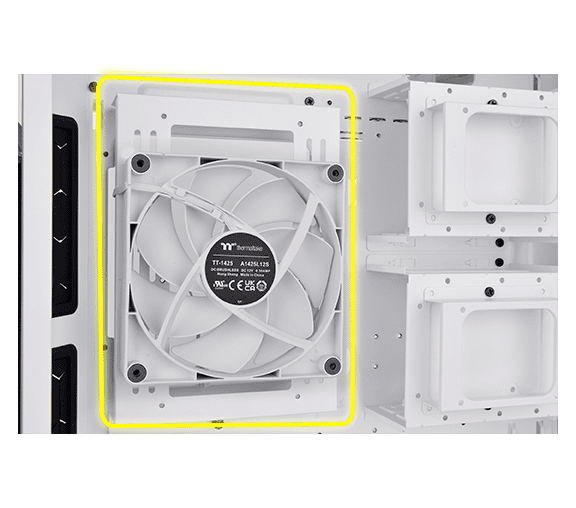 Right Fan Bracket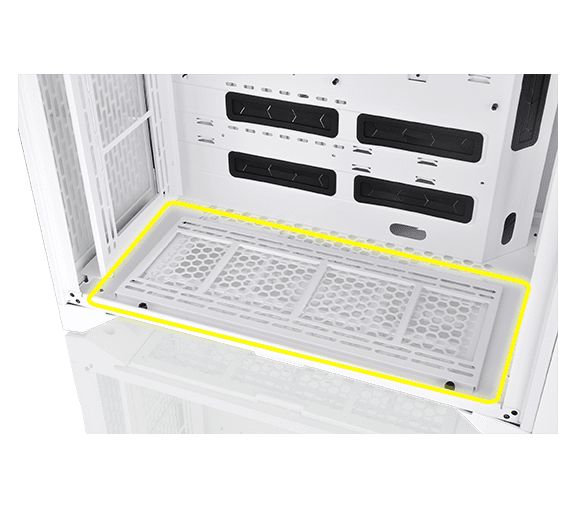 Bottom Fan Bracket
Three Pre-Installed 140mm CT140 Fans
Our new CT series fans offer great performance and beautiful LED effects and we have included three of the 140mm series to give you a start. With standard 4-Pin PWM connectors set up is simple and benefits from a variety of ways to control your fan speeds through motherboard software.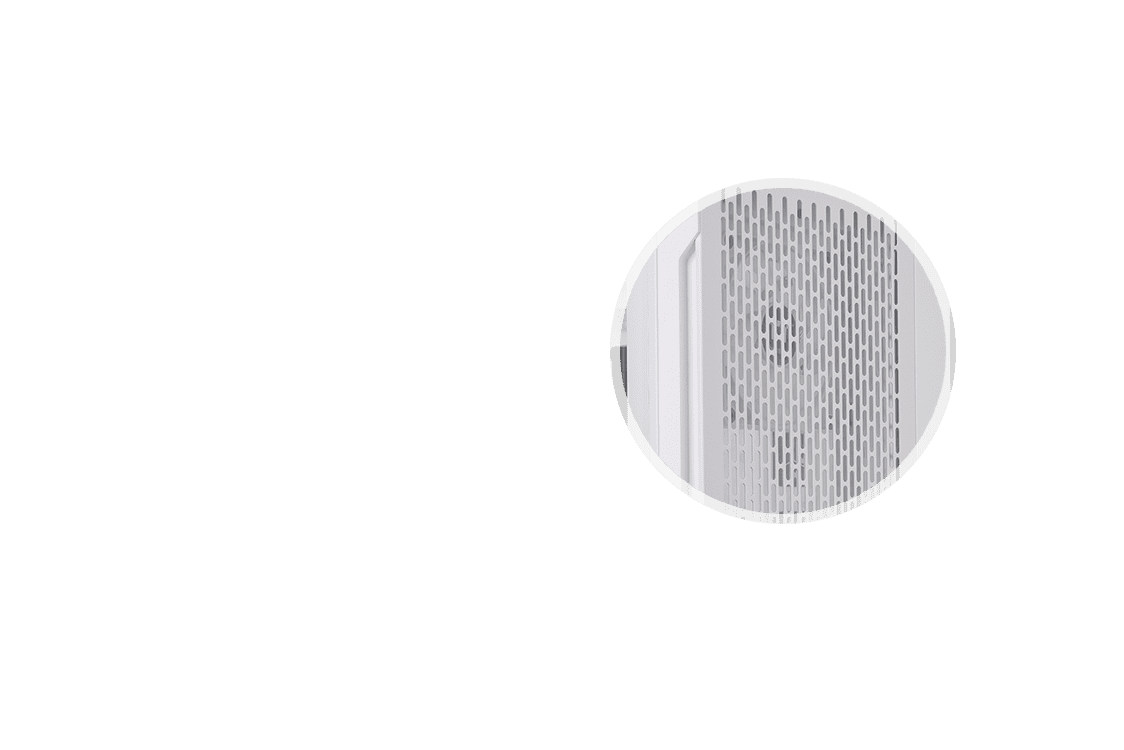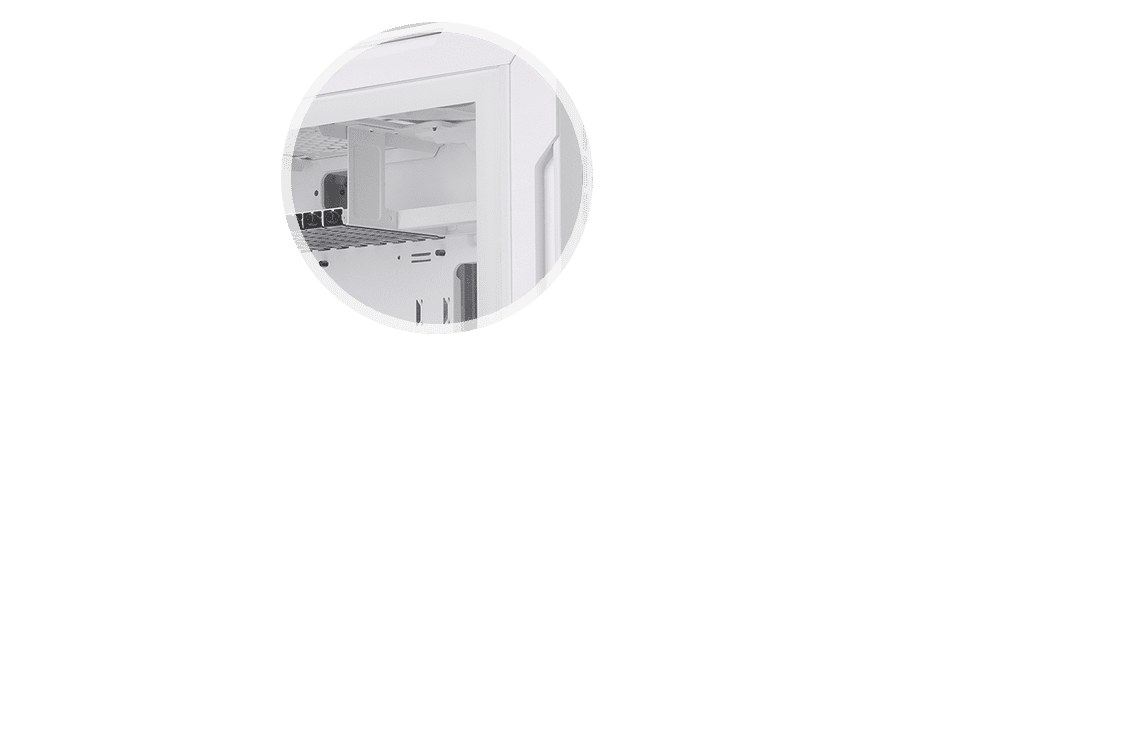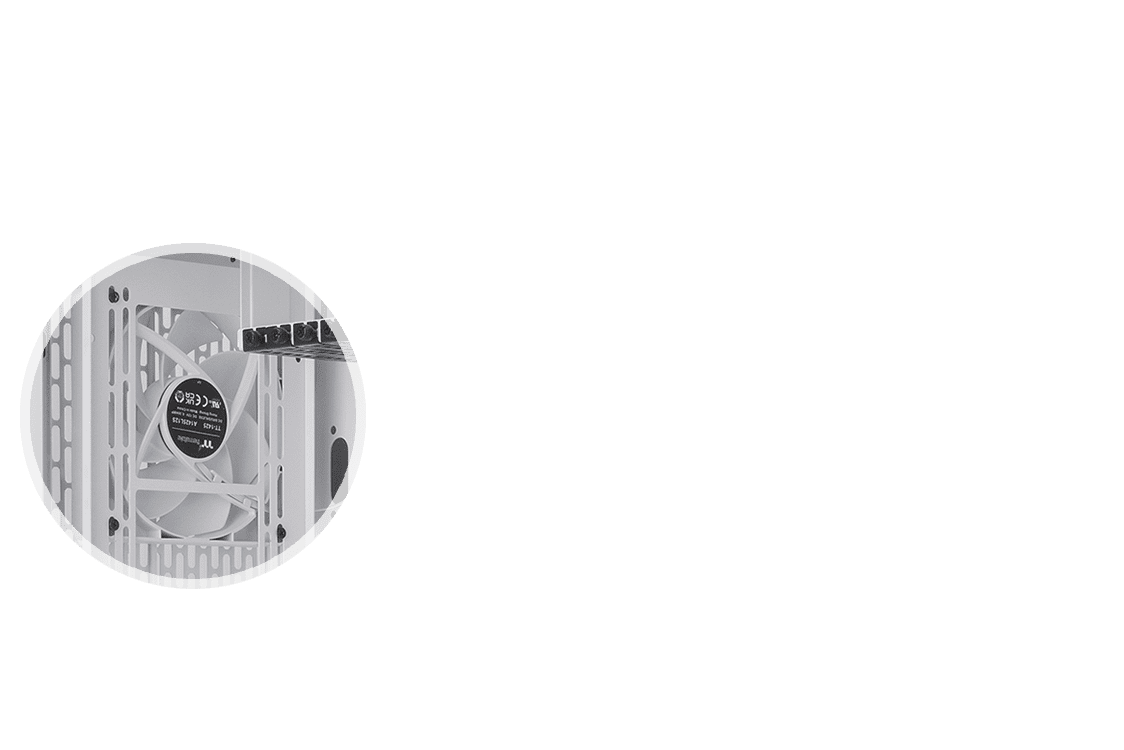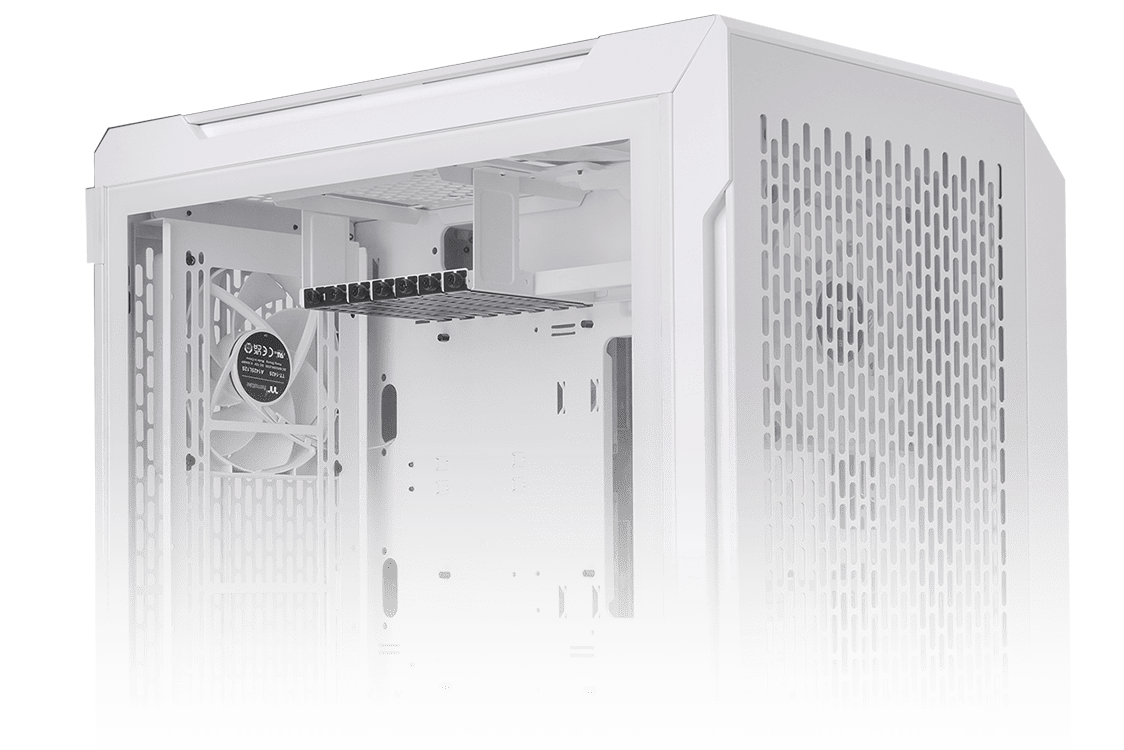 Complete Your Build with CT Series Fans
Really like the look of the CT fans and want to complete your build with them, then just click on the links below. Our new CT series fans come in a variety of sizes, color options, and LED or Non-LED options to fit what came with your chassis or the look you are going for.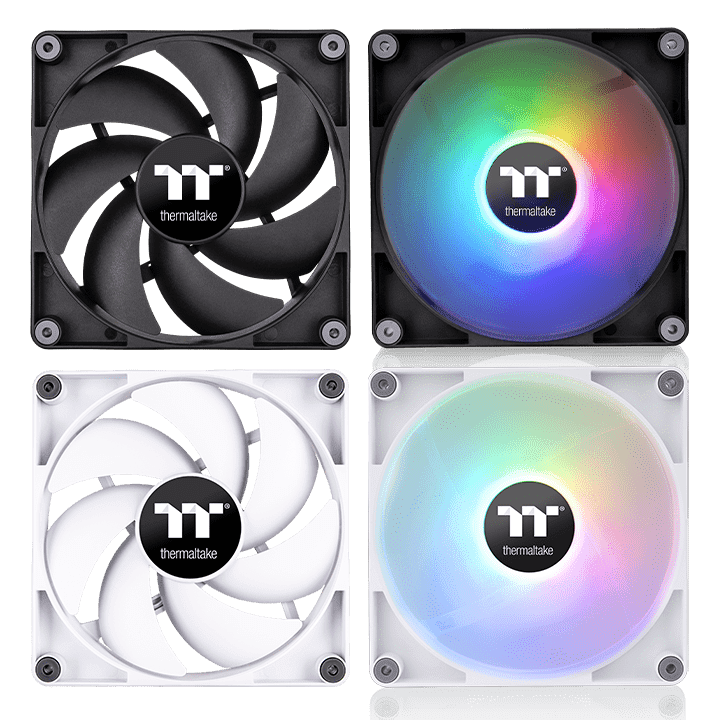 Display It Your Way
Included with the CTE C700 TG ARGB is a rotatable PCI-E and riser mounting bracket, allowing for both conventional direct connection to the motherboard or rotation of the cared with the use of a riser cable for optimal viewing angles. The included riser bracket is capable of accepting both 90 degree and 180 degree mounting style riser cables for convenience. (Riser cable sold separately.)

The image is for reference only.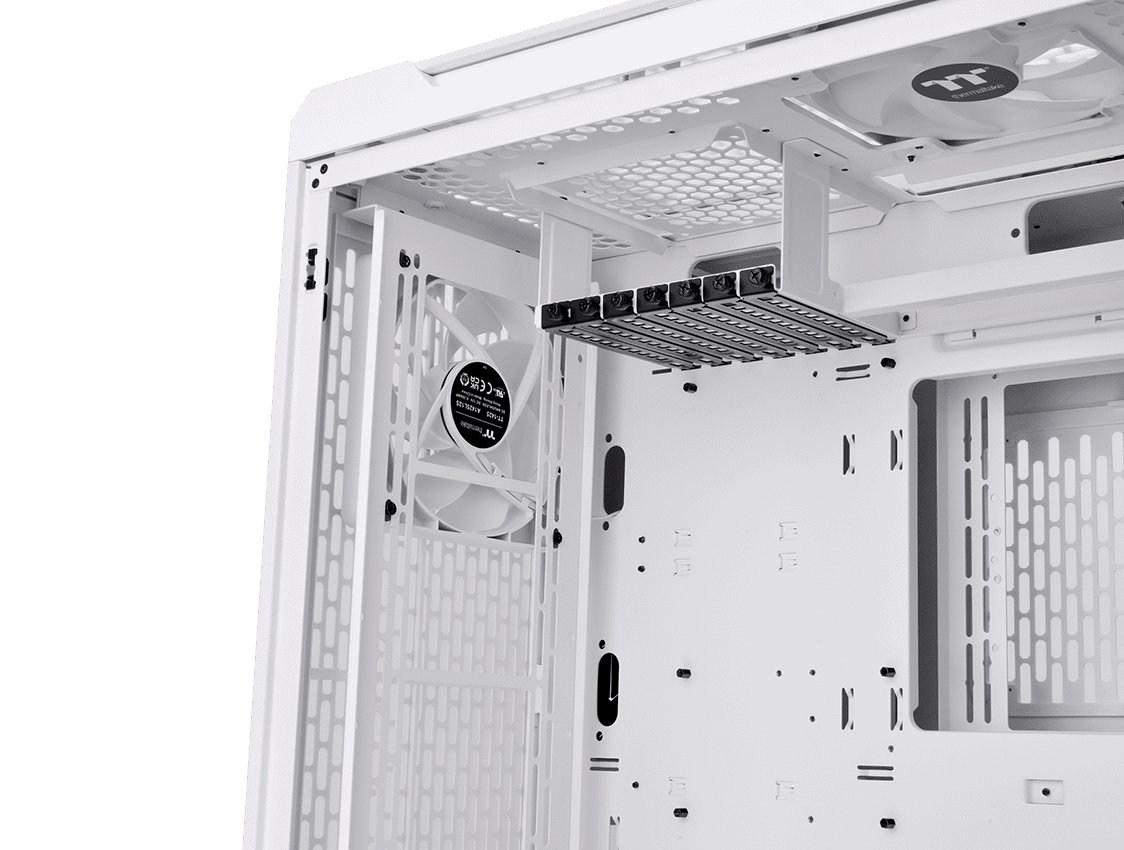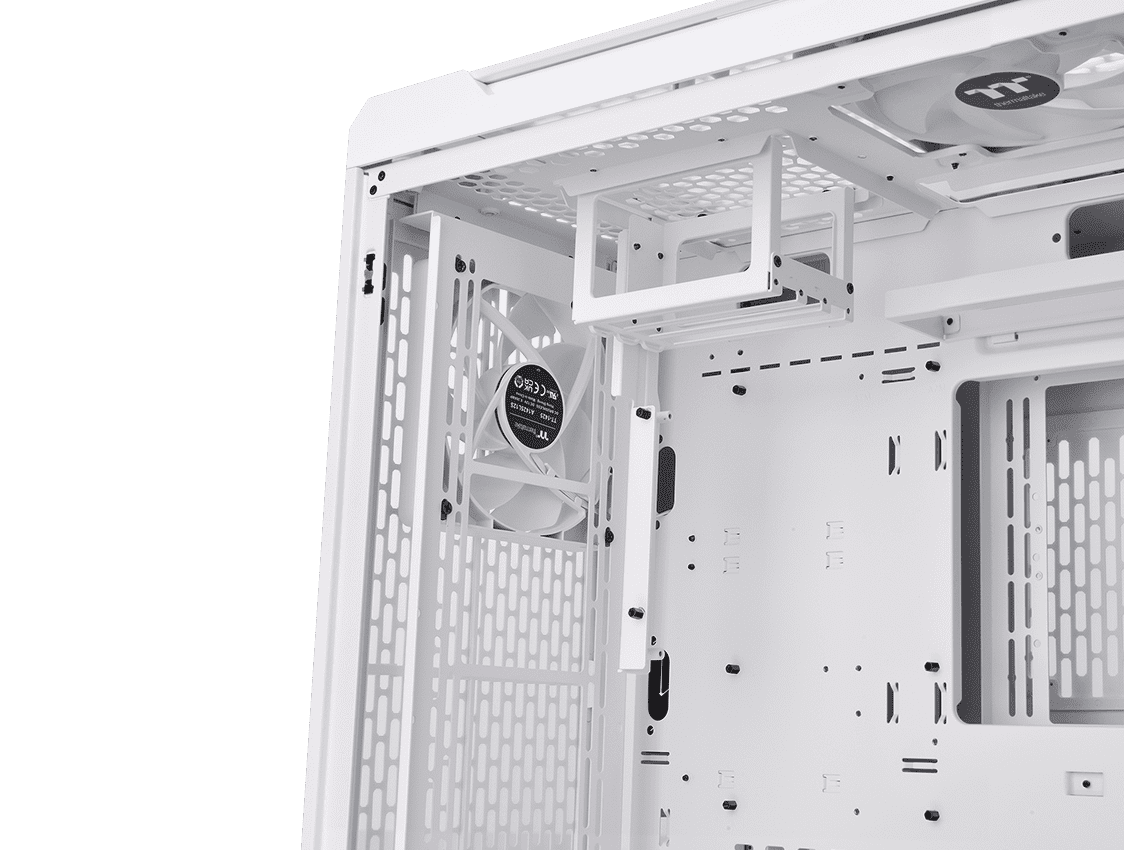 Dimensions
Fan Capacity - 1
Fan Capacity - 2
All-in-One Compatibility
Custom Liquid Cooling Compatibility
CPU Cooler

Max height 190mm

Motherboard

6.7" x 6.7" (Mini ITX), 9.6" x 9.6" (Micro ATX),12" x 9.6" (ATX), 12" x 13" (E-ATX)

PSU

Max length 220mm

VGA

Length limitation
327mm (with radiator)
410mm (without radiator)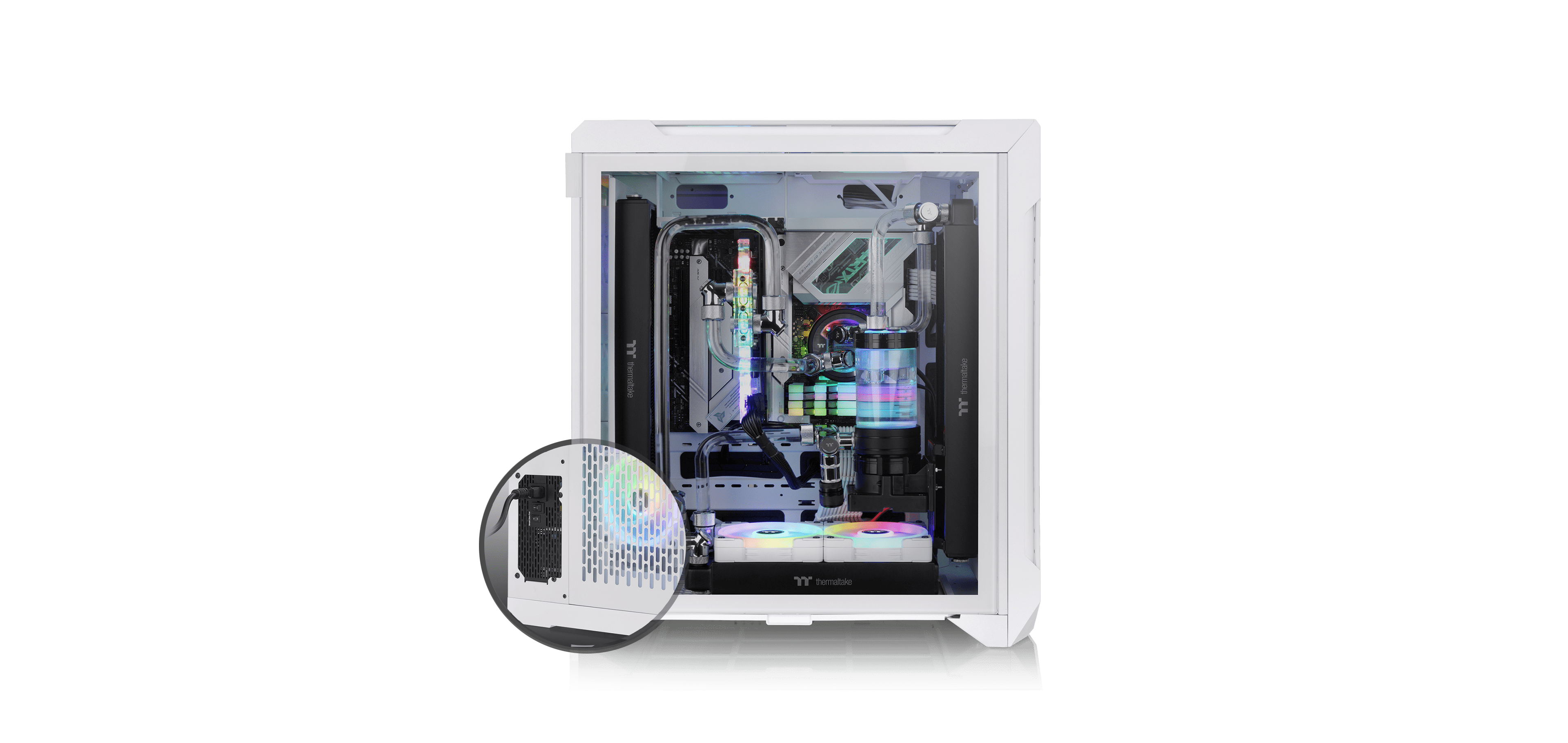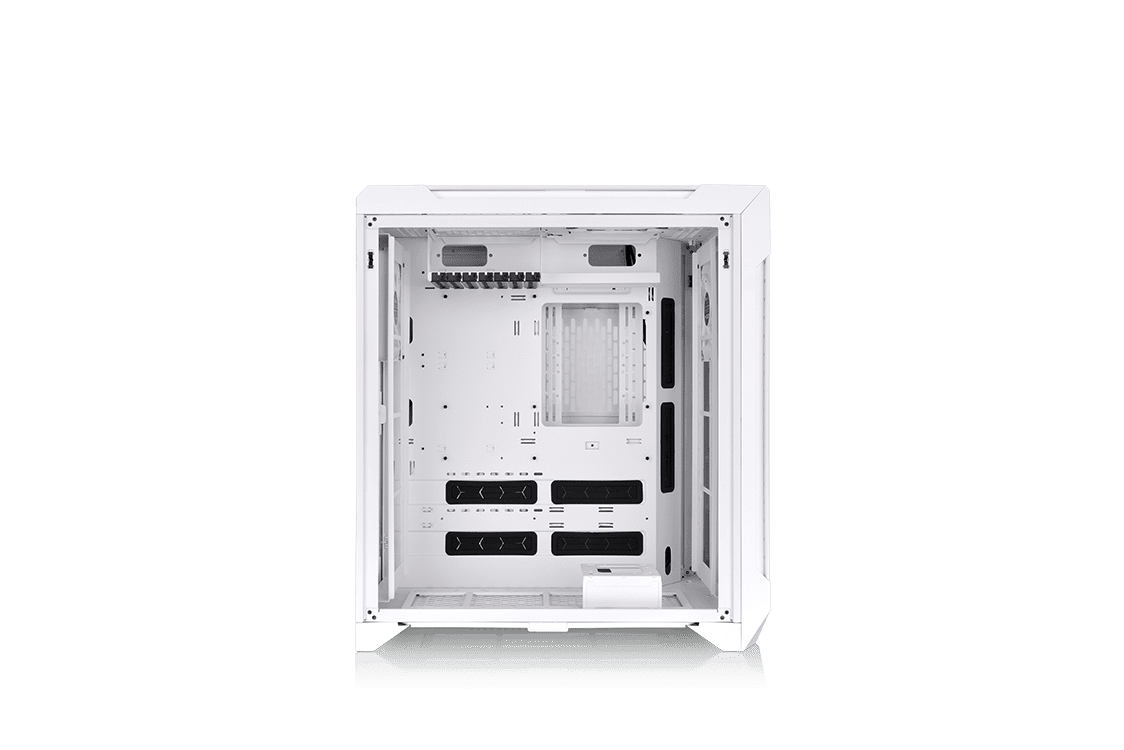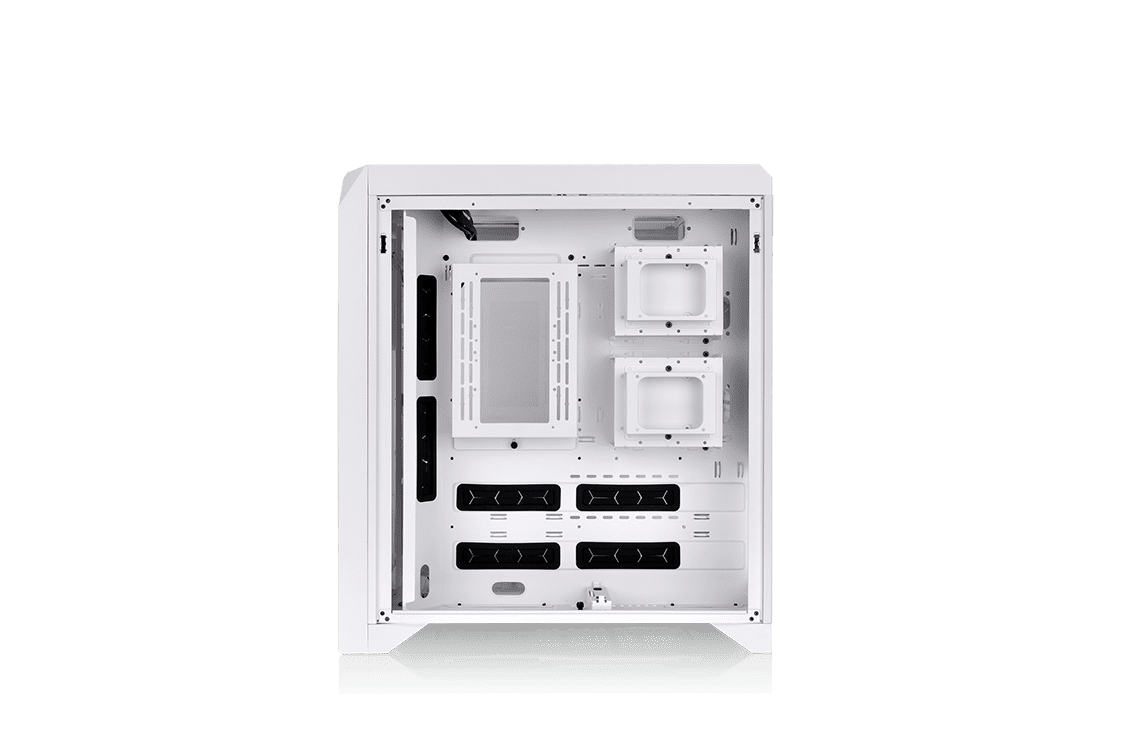 Previous
Next
Perfect Dust Protection
There are fine removable filters at the top, front, bottom, rear and right side of the chassis to provide excellent protection against dust, and they are easily removable for cleaning.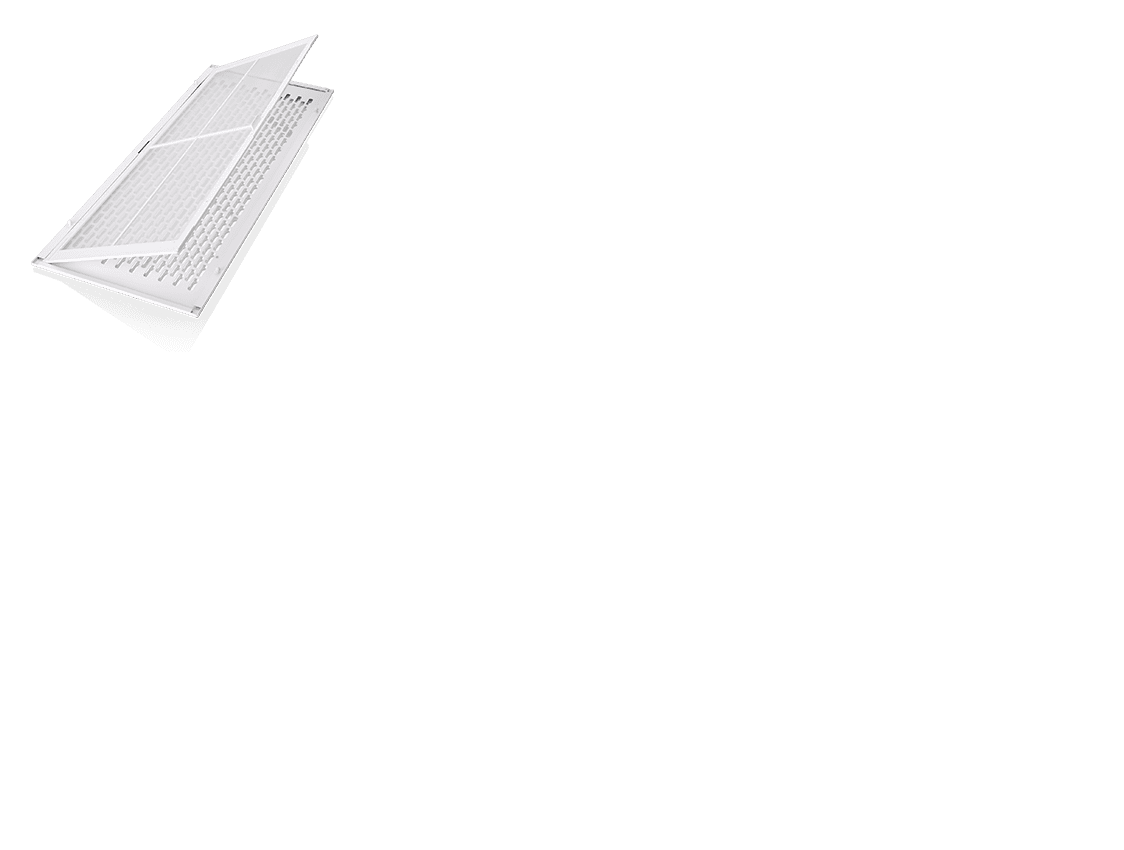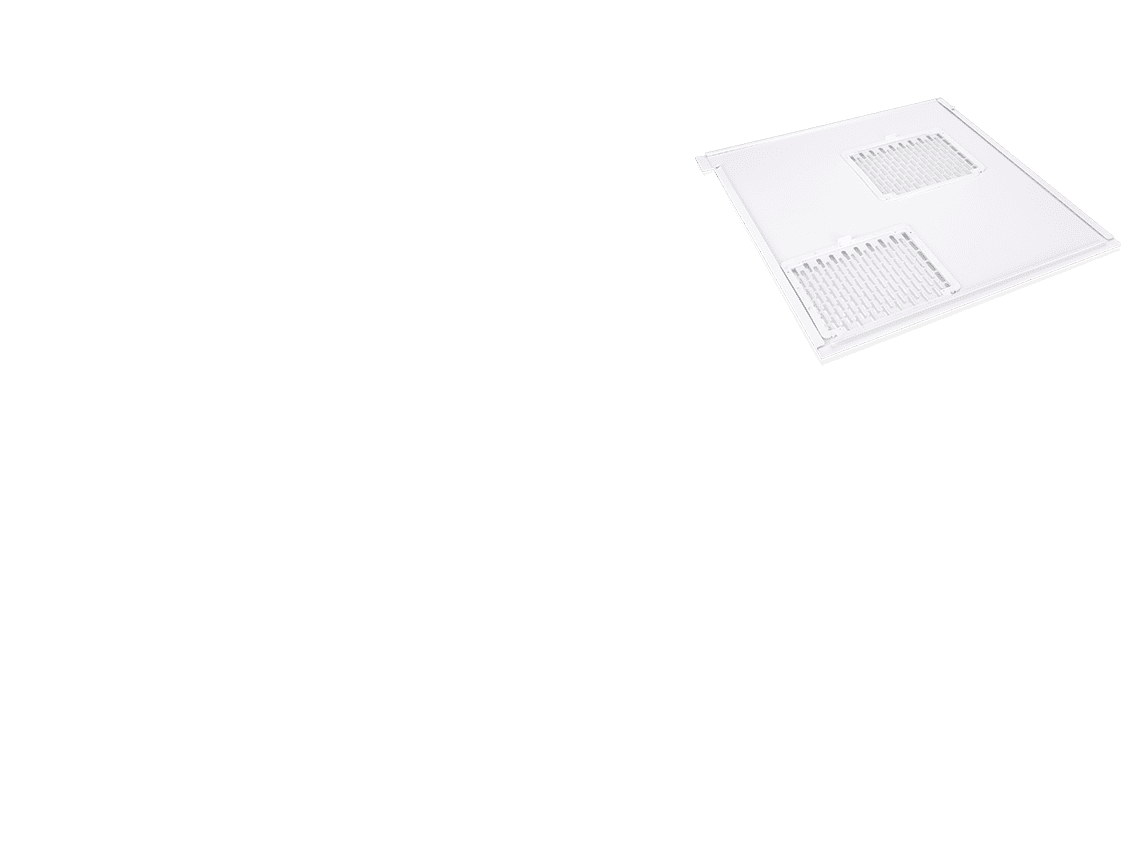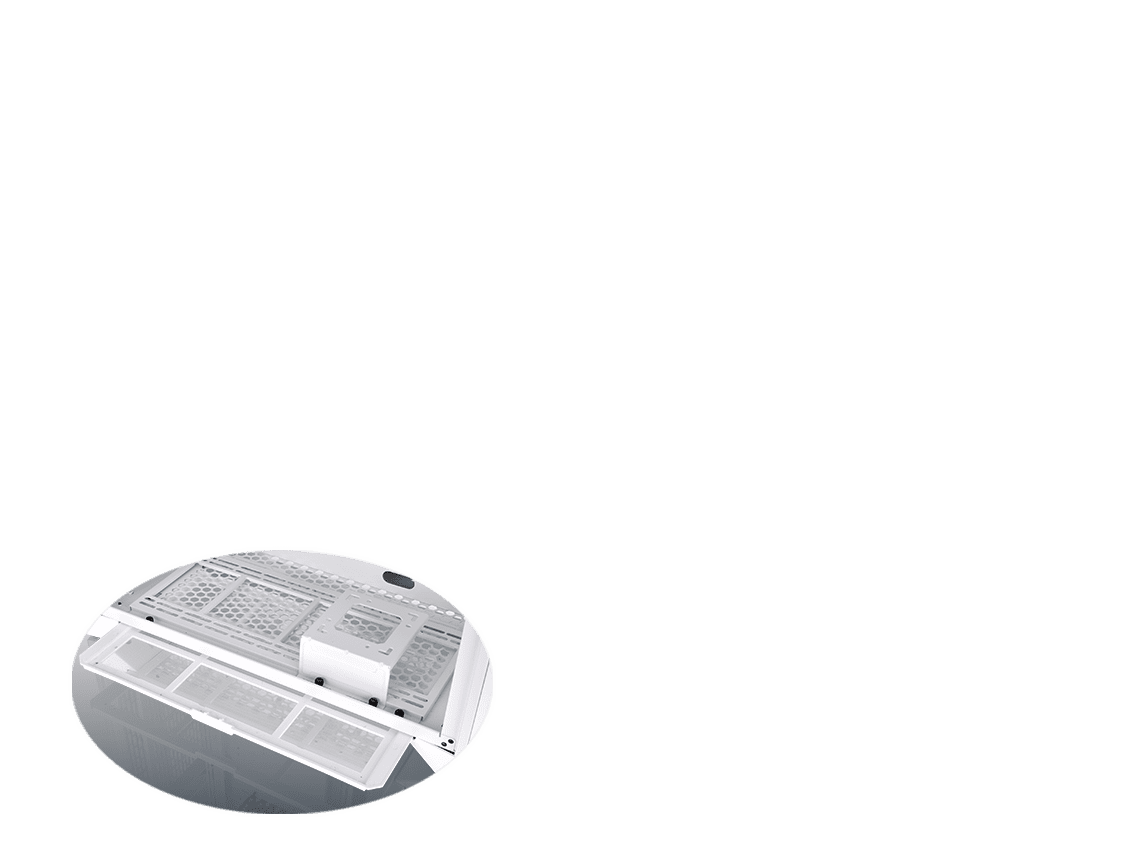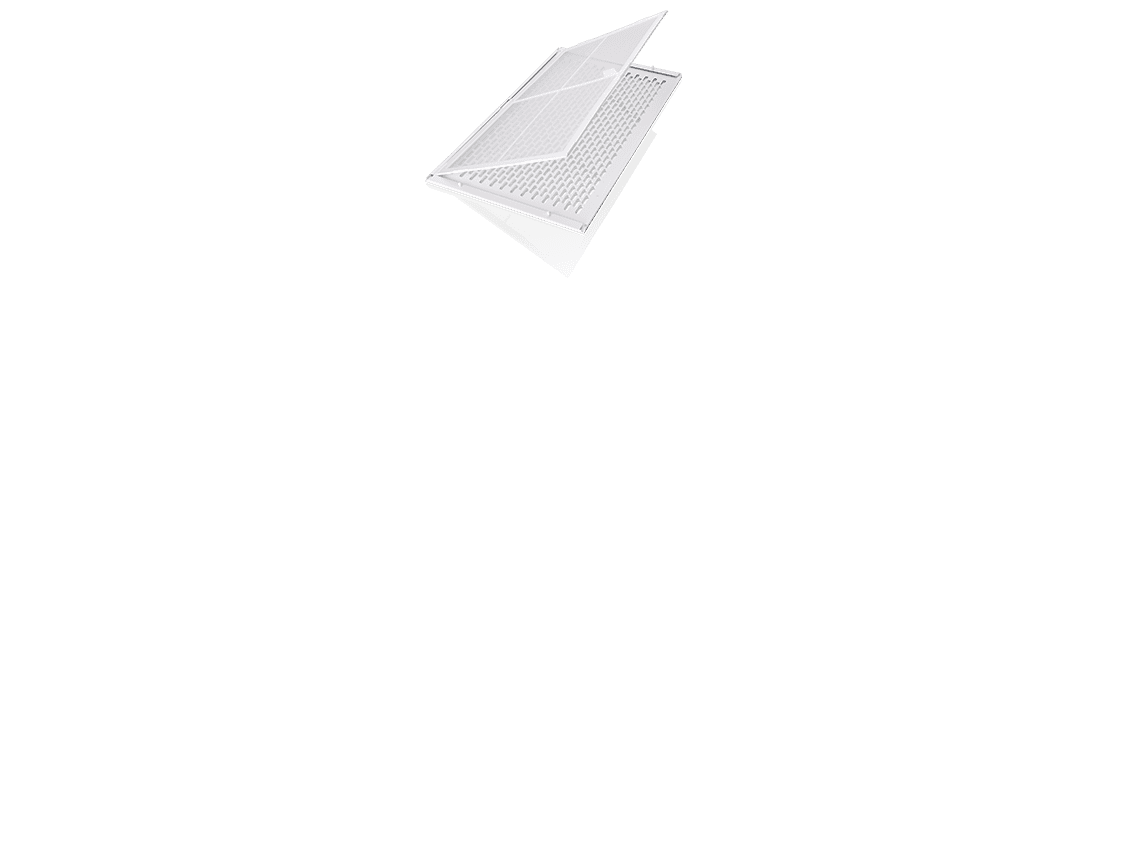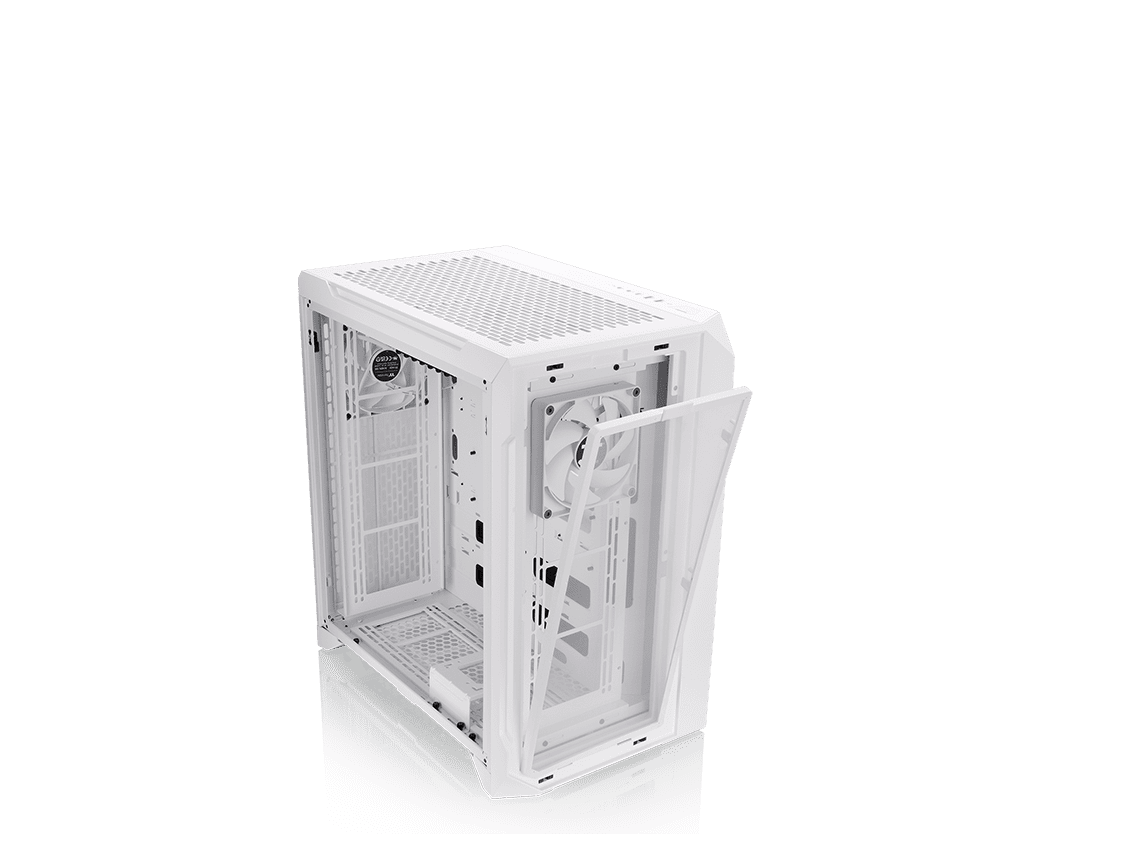 Everything You Need Is Located In One Place
Two USB 3.0 ports, one USB 3.2 Gen 2 Type-C, and HD Audio ports are placed on the top panel to grant direct access when needed.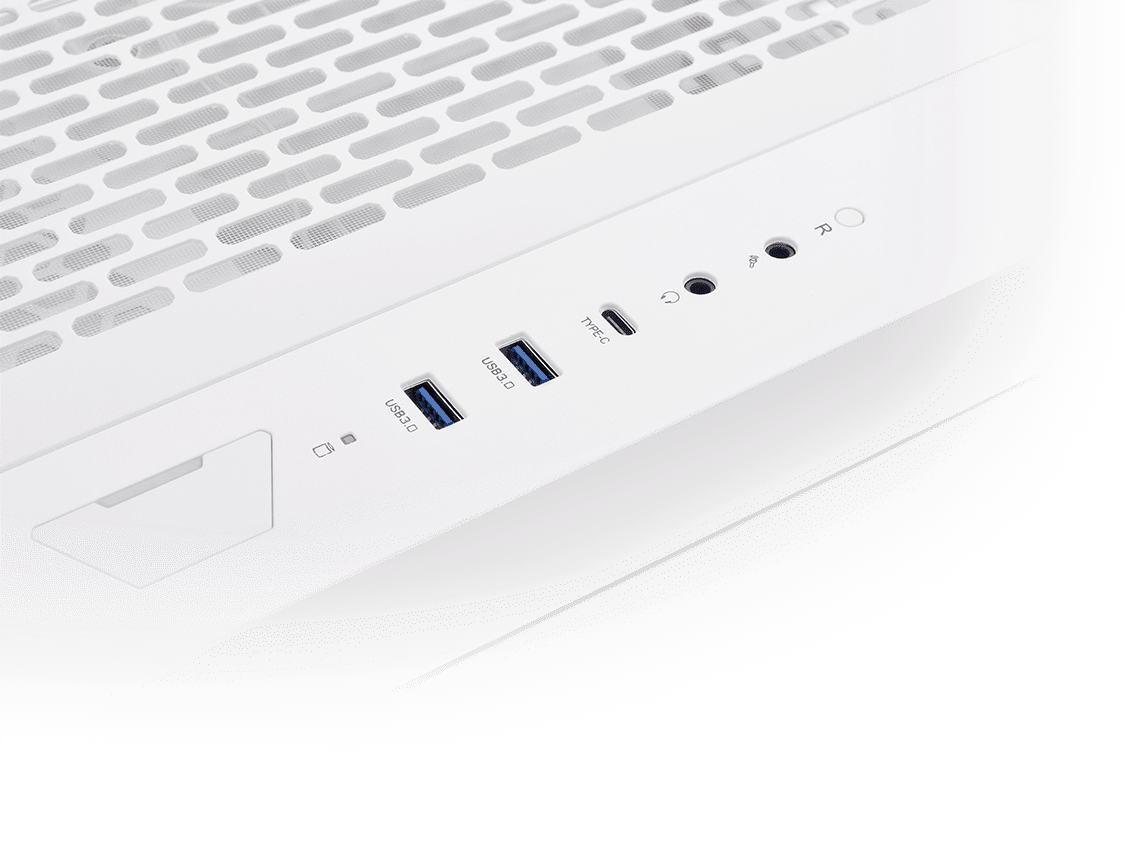 Radiator Support List
All-in-One Compatibility List
|   | 120mm | 240mm | 360mm | 140mm | 280mm | 420mm |
| --- | --- | --- | --- | --- | --- | --- |
| Front | ● | ● | ● | ● | ● | ● |
| Right | - | - | - | - | - | - |
| Rear | ● | ● | ● | ● | ● | ● |
| Bottom | - | - | - | - | - | - |
Custom Liquid Cooling Compatibility List
|   | 120mm | 240mm | 360mm | 140mm | 280mm |
| --- | --- | --- | --- | --- | --- |
| Front | ● | ● | ● | ● | ● |
| Top | - | - | - | - | - |
| Rear | ● | ● | ● | ● | ● |
| Bottom | ● | ● | ● | ● | ● |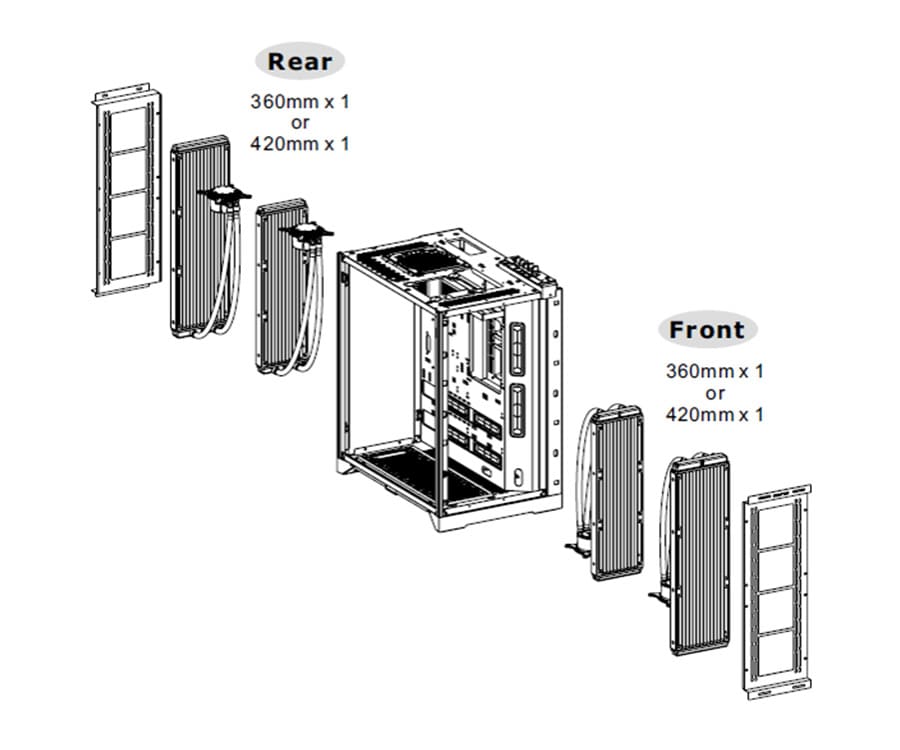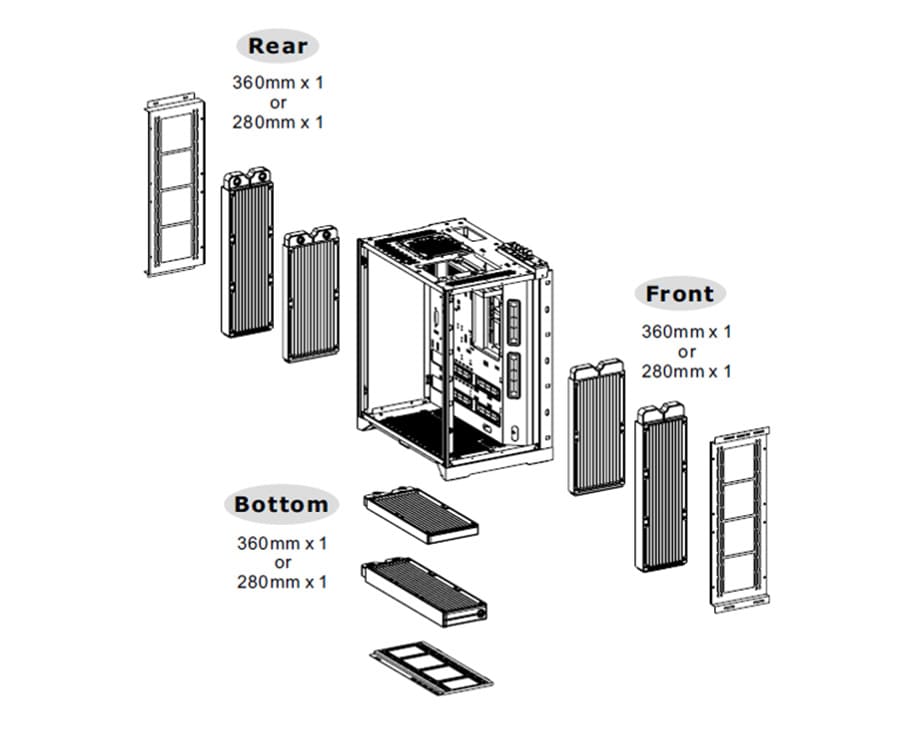 Fan Support List
Fan Support List
|   | 120mm | 140mm | 200mm |
| --- | --- | --- | --- |
| Front | 3 | 3 | 2 |
| Top | 2 | 2 | - |
| Right | 1 | 1 | - |
| Rear | 3 | 3 | - |
| Bottom | 3 | 2 | - |